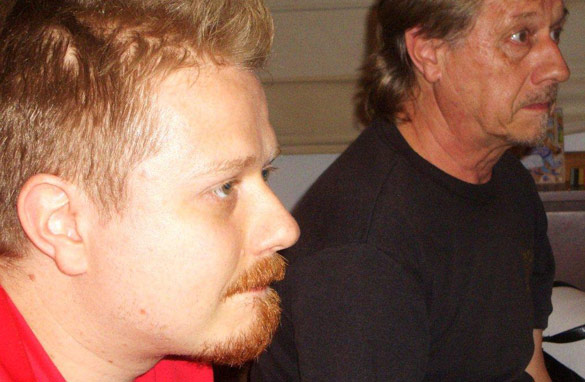 Like father, like son: Matt Booth and pop try to last the World Cup marathon (CNN)
Editor's note: CNN Hong Kong Operations Supervisor Matthew Booth will attempt to watch every match of the World Cup on television in the wee small hours of the night. Can he do it without being fired/divorced/committed to an asylum? Follow his updates here, as he becomes more and more incoherent from extreme sleep deprivation.
It's possible I've watched a little too much football.
In total, about 5,100 minutes. Which is 85 hours or three-and-a-half full days on my couch. That's like watching "Gone with the Wind" 23 times. I know some people out there would say, "Frankly my Villa, I don't give a Lahm," but this has been something of a personal mission for me, and it's now mercifully approaching the easy bit.
With the quarterfinals played over the coming weekend, then only one match a day for the semifinals, it almost feels like stopping a few meters from the finish line, having a pint and a bit of a lie-down. With a mournfully small amount of sleep during the epic ultramarathon of the first three weeks, we have now entered the leisurely egg-and-spoon race of the final stretch - and that's just fine with me.
I slept a toe-curling 11 hours on Wednesday, the first rest day. It would have been 11 hours straight through if it wasn't for my wife, who, bless her cotton socks, woke me while quietly trying to set my alarm clock (it squirmed out of her hands and smashed to smithereens right next to my head.)
Springing into the office after the first rest day, I was surprised that people have stopped telling me how dreadful I look, which had become something of a daily fixture in my office conversation.
My wife, Veronica, even said: "You're back! You've been away somewhere for a while, but you're back!"
Even though it's possible I may have been somewhat emotionally absent for the first three weeks of the tournament, I'm not sure Veronica would consider herself a "World Cup widow" for two reasons:
(i) I'm not dead, although during the first half of Uruguay vs. France, I did consider it.
(ii) She's watched almost all the early games with me.
She even tried the 2.30am night games a few times, but the Chile vs. Spain game was the steel girder that smashed the camel's back to atoms. We got to half time with Veronica slipping in and out of consciousness like a British boxer in Vegas, when she erupted: "I'm TIRED, and I'm HOT, and I'm UNCOMFORTABLE and I don't care anymore, and I'm going to BED."
I asked her if she might like to watch Chile vs. Brazil with me a few nights later. She signaled her answer by laughing in my face.
Our relationship reached equilibrium during the excellent USA vs. Ghana game. I was happily on the couch with my mini salami sticks and my carrots, she was dancing the night away with friends at a gay bar. Perfect. Married bliss.
I know that most of this self-imposed football-driven sleep deprivation is laughably trivial to new parents who haven't slept for months at a time. Hopefully the act of clicking links on websites is too much for them, and I can escape their censure.
I was exchanging text messages with just such a new mum during the South Korea vs. Uruguay match. Bianca, a friend of mine who recently had baby James, was watching the games during late night feeds. James has been pretty much weaned on football, but as he's half English and half Australian his future as a football supporter is hardly bright. Perhaps cricket might be a better idea?
My dad, who blessed me by making me a Liverpool fan but cursed me by being English, continues to visit my HD LED TV football cave for the choicest games.
He has an endearing trait of screaming "FOOTBALL! FOOTBALL!" at the television when someone is doing something attractive. If a player does something so shirt-rippingly amazing that they will want to make him the next "American Idol" judge and a U.N goodwill ambassador, Dad might add a third "FOOTBALL!" to the sentence, but that's very rare.
He didn't even utter one "FOOTBALL!" during the Brazil vs. Portugal game. In fact he was so bored he kept getting up to make ham and cheese sandwiches. We'd run out of cheese and ham by the end of the first half, which meant both him AND the dog were begging for my salami sticks.
This week I expect to see Dad eat fewer sandwiches as we have some fantastic matches to go before we get to the ultimate game. However, it's impossible not to be fantasizing about the final already.
I'm crossing every conceivable body part, and I'm dribbling with anticipation for the potential of Spain vs. Brazil. My bowels quiver at the prospect of the best of Europe clacking its castanets at the best of South America's samba drums.
That kind of titanic encounter might even get a third 'FOOTBALL' out of my Dad. I certainly hope so.
ARMCHAIR FAN FACTS: WEEK 3
Diet colas drunk: 110
Baby carrots eaten: 6.5 kgs
Mini Salami sticks consumed: 140
Hours slept on first rest day: 11
Matches watched: 56 out of 56
Funniest TV commentary line: "This is VERY nil nil" (during Japan vs. Paraguay)
Funniest fan banner in stadium: "These Scousers get everywhere" (during New Zealand vs. Slovakia)