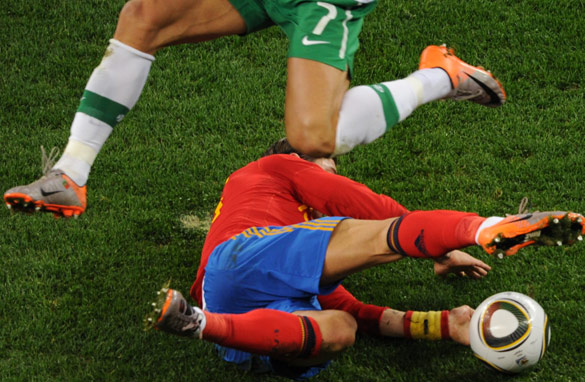 Nike's colorful new boots have been conspicuous at the World Cup in South Africa. (AFP/Getty)
London, England (CNN) - With the sheer number of Nike ticks seen on the clothes and the shoes of the footballers, you could be forgiven for thinking the American sportswear giant is an official corporate sponsor of this year's World Cup in South Africa.
Of course, it's Adidas and the famed three stripes that are supposed to catch the eye. It's the German company's ball that's being used for all matches, and its name that appears on the boarding, along with some of the kits of teams such as Spain, Germany, France and Argentina (spare a thought for Nike-owned Umbro, which supplies England).
But, oh those bright orange and silver Nike Elite series of boots that so many players are wearing! It can be no coincidence that Nike's latest shoe is so easy to see from far away. Many of those players wearing Adidas clothes are wearing Nike Elite. It worked. I noticed.
Don't call it ambush marketing, though. This is a far cry from placing beautiful models wearing orange-colored clothes in the stands to promote a Dutch beer brand that is not a sponsor.
Nike is simply fulfilling a right to sign any player or team to a kit contract. Players have the right to wear what they want when it comes to critical equipment, like boots and baseball gloves, no matter who is the event's sponsor.
And you can't blame Nike for people referring to its pre-tournament TV commercial (which is called "Write the Future") as  "Nike's new World Cup ad." Though, as an aside, it's worth noting that all the players featured in it have already been knocked out of the tournament.
What Nike cannot do is link itself to the World Cup. Go to its website and you would never know that the most important sporting event in the world is taking place.
This is not a mild issue, of course. In order for big events to sign big-time sponsors, governments have to pass laws and make ambush marketing illegal (read South Africa's law here).
That is why South African prosecutors could have filed criminal charges against the two Dutch women accused of being behind the beer stunt. The matter was dropped by soccer's governing body FIFA, though, after the beer company agreed to not do it again while Budweiser is the official beer of the tournament through 2022.
Then there are the "exclusion zones" around the stadiums where only official merchandise and drinks can be sold. Brands spend millions of dollars for the right not to have to compete with rivals who have not paid.
I was in Turin for the 2006 Winter Olympics, and people there had to be be reminded that Italy had passed such a law and that it was illegal to profit from the Olympics if you had not paid up first.
I also overheard Coca-Cola people making sure athletes did not bring the "wrong" water to press conferences, as they indicated had happened in the past.
Nike hasn't had to worry about these things. It just had to make sure its players where brightly-colored shoes. Though at $400 a pair, I will not be buying them.