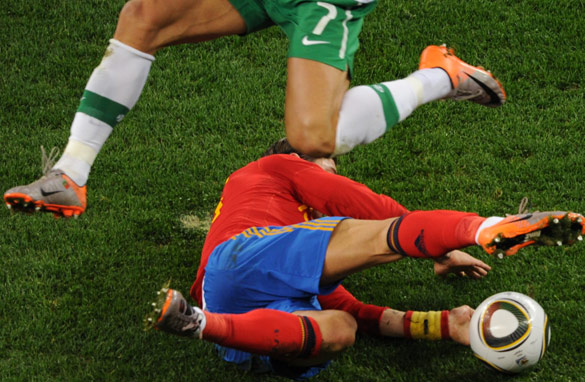 Nike's colorful new boots have been conspicuous at the World Cup in South Africa. (AFP/Getty)
London, England (CNN) - With the sheer number of Nike ticks seen on the clothes and the shoes of the footballers, you could be forgiven for thinking the American sportswear giant is an official corporate sponsor of this year's World Cup in South Africa.
Of course, it's Adidas and the famed three stripes that are supposed to catch the eye. It's the German company's ball that's being used for all matches, and its name that appears on the boarding, along with some of the kits of teams such as Spain, Germany, France and Argentina (spare a thought for Nike-owned Umbro, which supplies England).
But, oh those bright orange and silver Nike Elite series of boots that so many players are wearing! It can be no coincidence that Nike's latest shoe is so easy to see from far away. Many of those players wearing Adidas clothes are wearing Nike Elite. It worked. I noticed.