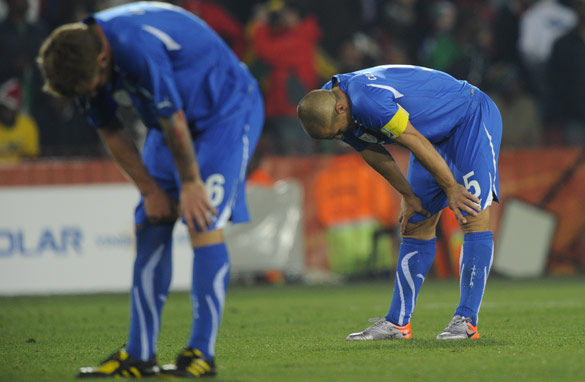 Italy's World Cup defense in South Africa ended in an early exit after an embarrassing 3-2 defeat by Slovakia. (AFP/Getty)
Johannesburg, South Africa (CNN) - The World Cup has never been a tournament that respects form or status. In 2006, an unfancied Italy came from nowhere to triumph over all opposition, their feat an echo of the Azzurri's win in 1982 as dark horses. West Germany overturned an awesome Hungary side in the "Miracle of Bern" to win in 1954, and a star-studded Netherlands side lost in two successive finals in 1974 and 1978 despite their revolutionary "total football" tactics.
And so the 2010 tournament has in many ways conformed to type, with some of the so-called giants of world football being downed by plucky Davids.
Defending champions Italy fell at the group stages after the test of Paraguay, New Zealand and Slovakia proved too tough for a side of increasing age and apathetic players.
France, world champions of 1998, also fell apart in dramatic fashion before failing to reach the knockout stages. After poor results on the pitch, a fall-out between coach Raymond Domenech and striker Nicolas Anelka and a subsequent player revolt saw a farcical disintegration of a much-touted squad.
England, always a team set up to fall by their domestic media, dashed the hopes of a nation by not only losing their pre-tournament form — they were Europe's most prolific goalscorers in qualification — but also exposing the world's highest-paid coach Fabio Capello as being less infallible than previously thought.
Before kick-off there was genuine feeling among many pundits that it was England's time to regain the world title they last won in 1966, but those wearing the three lions on their chest stuttered and stumbled through the group stage before being soundly beaten by a young, stylish German side in the last 16.
Africa has also had its disappointments. No credible journalist put too much hope in a winner from the host continent, but many felt that in Ivory Coast, Cameroon, Nigeria and South Africa there was enough talent and experience for those nations to set the tournament alight.
Alas, Didier Drogba's Ivorians failed to progress from an admittedly tough group, Nigeria's Super Eagles squandered chance after chance and suffered an early exit, while Cameroon and South Africa — despite showing moments of great football — failed to show the clinical finishing needed to progress. All hopes now rest on the shoulders of Ghana, who with youth in their ranks, have their eyes on a semifinal berth.
Big-name players also failed to deliver. England striker Wayne Rooney came into the tournament off the back of a prolific season with Manchester United. His goalscoring form led many to see him as a contender for the world player of the year. But, whether through injury or fatigue, Rooney seemingly lost the ability to do the most simple of things. Soporific when on the field of play, the once hotshot couldn't hit a barn door with a banjo in South Africa.
Cristiano Ronaldo had a similar fate with Portugal, as his side were knocked out by a superb Spain team in the last 16. The Real Madrid man failed to make an impact of any note despite his top-billing status after almost single-handedly keeping "Los Meringues" in the Spanish league title-race last campaign.
Franck Ribery helped German side Bayern Munich progress to the final of the European Champions League and win a domestic double, but could do nothing to inspire a fractured France to perform.
Samuel Eto'o will also have left South Africa ruing his inability to make a mark on the biggest stage of them all. The Cameroon striker won a treble of titles under Jose Mourinho at Inter Milan before the World Cup, but due mainly to being played out of position, he was unable to transfer the form that saw him lift the European Cup for the third time to anything more than two goals for the Indomitable Lions.
Many giants of the game have fallen, but part of the magic of the World Cup is it creates new legends with each edition. Only time will tell who will be the new Goliath to leave South Africa as champions.