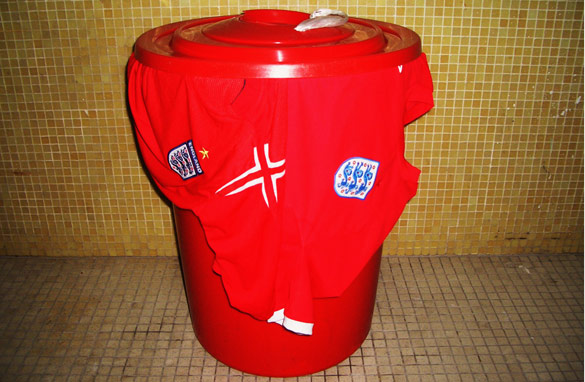 Matt Booth's England shirts find a new home – a trash can in Hong Kong (CNN)
Editor's note: CNN Hong Kong Operations Supervisor and England fan Matthew Booth will attempt to watch every match of the World Cup on television in the wee small hours of the night. Can he do it without being fired/divorced/committed to an asylum? Follow his updates here, as he becomes more and more incoherent from extreme sleep deprivation.
Hong Kong, China - Despite wearing my lucky underwear, sitting in the correct position on the couch and the deals I made at half time with various creatures from the underworld, there was nothing that could be done to fight the future that Paul the English octopus had already predicted at a German zoo.
The English are out of the World Cup.
They were soundly beaten, humbled and are on their way back home, leaving the rest of the footballing world wondering what all the fuss was about.
It turns out football isn't coming home - and may not even write a postcard.
 For me there was absolutely no hiding from the result. The morning after the match, I directed two hours of our Asian morning shows which had video of the German goals in the show opener, in the headlines, in the sport updates and in the segment teases. I think at one point they rolled the tape in the weather segment just to mess with me.
In our main control room, where I was chained to a chair with eyelid clamps firmly in place for two hours, we had various Asian news networks in monitors around the room. Every time I glanced away from CNN game highlights, Frank Lampard would be beaming down from one of the screens, looking like someone stole his ice cream; or there would be some Bangladeshi pundit explaining that if Capello had played Rooney as a lone striker all would have been well.
Much like watching England against Algeria it was utter torture.
But now it's over.
I've finished work, I've gone home, eaten some mini carrots and I'm already eyeing the fixture list like it's a juicy steak covered in chocolate sauce and truffles.
I'm free.
I can consign my over-priced England replica shirt to the bin. I can stop reading endless articles on English newspaper websites that all say the same thing. I can stop defending comically inept England performances to my Australian colleagues. And I can stop monitoring FA-TV for meaningless interviews with England squad members ("Peter Crouch, who's the best darts player?" - I mean really.)
I can give up the pathetic navel gazing that went along the lines of: "Well we were QUITE good against Slovenia for 20 minutes, maybe they'll let us win the World Cup?"
Rubbish! England had a dreadful tournament and we deserve to go home.
I'm not even very interested in the Lampard phantom goal controversy. After "the goal that wasn't" instantly burned itself into the lexicon of English footballing misfortunes, England had more than 50 minutes of football to find an equaliser, yet their dubious efforts only contrived to double Germany's advantage.
As German keeper Neuer snatched the ball after watching it bounce off the crossbar and over the line, his expression seemed to say: "Goal? Goodness me no, there's no goal here. Look! Over there! A three-headed monkey! Is that the time? I must dash…"
It was harsh, but that's football.
Now the agony is over and at long last I can join the growing legions of neutrals who can savor the excellence of a team, offering their admiration and support without the obligation of nationality.
Viva Espana! Deutschland Vor! Vamos Argentina!
May the best team delight me.
ARMCHAIR FAN FACTS: UPDATE
Diet colas drunk: 94
Mini carrots eaten: 5.6 kgs
Mini salami sticks munched: 120
Mini salami sticks fed to dog: 12