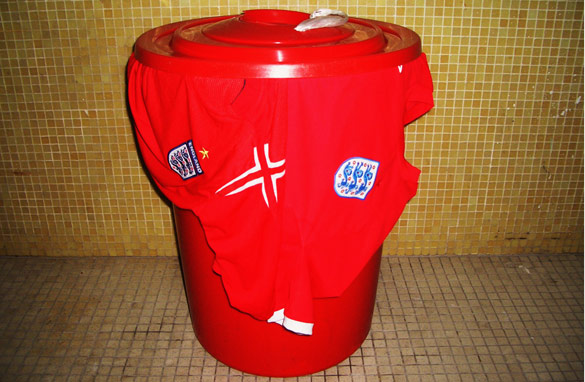 Matt Booth's England shirts find a new home – a trash can in Hong Kong (CNN)
Editor's note: CNN Hong Kong Operations Supervisor and England fan Matthew Booth will attempt to watch every match of the World Cup on television in the wee small hours of the night. Can he do it without being fired/divorced/committed to an asylum? Follow his updates here, as he becomes more and more incoherent from extreme sleep deprivation.
Hong Kong, China - Despite wearing my lucky underwear, sitting in the correct position on the couch and the deals I made at half time with various creatures from the underworld, there was nothing that could be done to fight the future that Paul the English octopus had already predicted at a German zoo.
The English are out of the World Cup.
They were soundly beaten, humbled and are on their way back home, leaving the rest of the footballing world wondering what all the fuss was about.
It turns out football isn't coming home - and may not even write a postcard.