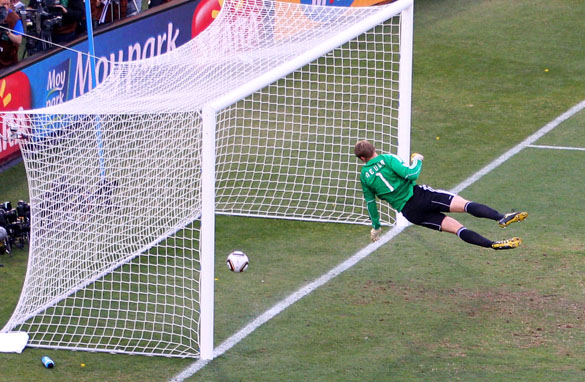 Frank Lampard's shot clearly crosses the line but the officials do not award a goal. (Getty)
The truth. We all seek it in life, and consequently, we all seek it in football as well. In life, it is difficult to get the truth. However, in football it should be easy. As easy as implementing a system that already exists.
Before arguing the various cases that could help implement justice and clarity to football, I will make one thing clear. England were not knocked out of the World Cup because Frank Lampard's goal didn't stand.
They lost because their defense was ripped to shreds by a Germany team who played them off the park. If the goal had counted, surely the result would have been more respectable, but the outcome would have been the same.
So, onto what I believe can be done to improve the beautiful game. Recently, I had the opportunity to speak with the head of world football's governing body – FIFA president Sepp Blatter – about various issues. One of them was goal-line technology. Blatter told me there were three reasons why it had not been implemented:
(i) The Adidas "Cairos" technology, which features a chip in the ball, is too expensive. It would take wiring the whole field of play in order to guarantee accuracy of the sensors. Furthermore, since Adidas is the only company that has this technology, it would only be available in the competitions that feature balls made by that brand.
(ii) The Hawkeye system - whereby cameras placed in key locations around the field of play combine to allow a three-dimensional recreation of the action and trajectory of any ball in motion - is not accurate enough. If the line of vision of the various cameras is blocked, then it doesn't work.
(iii) Football should be the same from the top level to the grassroots level.
My reply then, as it is now, was that in a World Cup or a Champions League or another elite tournament, referees should have all the tools necessary to get every major decision right.
Let's forget video technology for a moment because everyone at FIFA and UEFA is against it, but why not hold a meeting with all the ball manufacturers, work out a deal to share the Cairos technology and implement it in the tournaments and games where champions are crowned?
The poorer federations may not be able to afford it, but at least at the top level when there are billions of people watching, the truth would be known.
So what will transpire after this latest goal-line gaffe? I presume very little. What has happened is that FIFA has recommended all federations implement five match officials in every game.
This refereeing format has been tested in the Europa League and it could be a positive development in the game. Let's hope so. I certainly do.