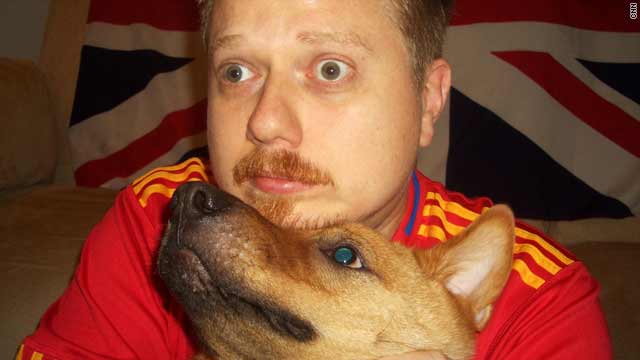 Superfan Matthew Booth grips his dog while watching a game. CNN Photo
Editor's note: CNN Hong Kong Operations Supervisor Matthew Booth will attempt to watch every match of the World Cup on television in the wee small hours of the night. Can he do it without being fired/divorced/committed to an asylum? Follow his updates here, as he becomes more and more incoherent from extreme sleep deprivation.
Hong Kong, China - "Booth! What is UP with soccer man?!" screamed CNN's Asian Business Editor Eunice Yoon, as I walked into the office today.
She proceeded to hold me personally responsible for bad calls made by referees in the previous USA games and went on to allude to the perfect nature of officiating in "American" sports.
While I did discreetly chuckle when the Americans had, not one, but two perfectly good goals wrongly disallowed, I assured Eunice I had nothing to do with either decision and told her that rage-inducing anguish is one of the best parts of the game.
She was unconvinced.
Watch my observations of the games after 23 minutes of sleep last night.
I watched the USA-Slovenia game at a little pub in Happy Valley with a large group of fresh-faced Americans and a smaller group of grizzled, sagely nodding English supporters who stood around the room wondering where all these Yanks had come from.
When the American 3rd 'goal' was disallowed because the ref was bored and thought the game could do with some controversy, I thought there was a genuine chance for some beer throwing and perhaps some grumpy door slamming, but the Americans contented themselves with some exceptionally colorful full-throated swearing.
No one said following your team at the World Cup is supposed to be fun!
These were exactly my thoughts as I sat, open-mouthed in shock and dismay on the couch to watch my beloved England spend 90 minutes against Algeria running away from the ball in terror, as if it had a slowly burning fuse sticking out of it.
Supporting England has always been an all-or-nothing affair. Witness the paralyzing panic and depression that gripped the English in CNN Hong Kong's bureau before the Slovenia game.
"I might not even watch," said Director Richard Eldred. "What's the point? I mean really, what's the point?"
The end of the world was very nigh.
However, normal service has resumed with the euphoria that greeted the wafer-thin victory over the mighty Slovenes. Never mind that the desperate defense at the end brought us to the verge of a brain hemorrhage.
Now we look forward to a hot date with the Germans on Sunday, Tommy helmets and Prussian Picklehaubs optional.
The British government picked the perfect time to announce gigantic budget cuts and tax increases. Perhaps no one will notice?
"You want ALL our money? Well fine, but can we talk about it later? England are playing Germany on Sunday."
At the Booth household, I'm not the only one with a stomach in knots.
My wife Veronica has also signed up to join the global suffering alliance of football fans. She is half Chilean and spent most of Chile-Switzerland trying desperately to find some socks to pair or taxes to do or ovens to clean, just to avoid being sucked into the tension of a do-or-die World Cup group game.
She failed to adequately distract herself and was screaming like a banshee when Mark "Gonzo" Gonzales scored their winner.
But if we are competing for the World Cup of suffering, the French are undoubtedly le champion du monde. The implosion of the French team was like watching a slow motion car wreck, from inside the car.
My French Facebook friends have been uncharacteristically quiet.
The French are not alone, however. I just finished watching their fellow former finalists, Italy being politely asked to leave the Cup at reception, as they check out. They didn't surrender as meekly as the French, but no doubt there will be much wild gesticulation going on in the bars of Naples and Turin tonight.
But the truth is, French, Italian, English, we all love it.
We adore the suffering, the bad refereeing, the penalties, the true horror of blown chances. That's what brings the elation when, miraculously, something goes our way.
So far, I've watched 44 games in the middle of the night, I've eaten more mini carrots than an apocalyptic plague of rabbits, I've drunk more diet cola than an advertising executive, and I've had less sleep than a new parent, but I absolutely can't wait for the next tortuous game.
England vs. Germany on Sunday will require horse tranquilizers just to bring me down to "freaking out" level.
But honestly, Eunice, I wouldn't have it any other way.
ARMCHAIR FAN FACTS: WEEK 2
Diet colas drunk: 78
Baby carrots eaten: 4.6 kgs
Cheetos eaten: 1 (then I threw the bag out, they are horrible)
Types of cheese consumed: 7 (Stilton is the king)
Times I've been told "You look terrible" by colleagues: 6
Match minutes watched: 3960 or 2.75 days
Worst game: England 0 Algeria 0
Best game: Slovakia 3 Italy 2
Best fan choice: Curly wigs, giant glasses and face paint when your team wins.
Worst fan choice: Curly wigs, giant glasses and face paint when your team loses.