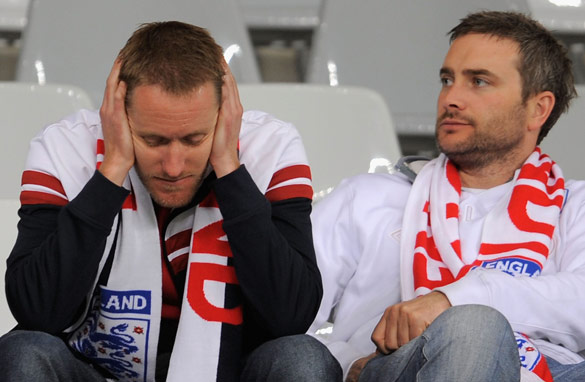 England fans show their disappointment following the 0-0 draw with Algeria (Getty Images).
Let's be honest, did any England fan living anywhere around the world really expect anything else?
Even the casual observer, a dispassionate sports spectator, would be hard-pressed not to notice a trend that accompanies the so-called inventors of the game when they qualify for the showpiece of international soccer.
Bar one glorious exception in 1966, when as hosts the team wearing the three lions on their chest won a controversial final to be crowned world champions, the World Cup has only ever resulted in the same thing for Anglophiles: heartbreak and disappointment.
It doesn't matter that South Africa's climate, for once, suited a team that traditionally wilts in temperatures anything other than mildly cold, or that the side were Europe's top goalscorers in qualification.
Wayne Rooney may well be one of the best strikers on the planet and Fabio Capello is one of the most experienced and astute coaches in world soccer, but was that ever going to be enough to outweigh the vengeance of the footballing Gods?
I speak as a tormented man of England, one who as an eight-year-old was taught injustice by Diego Maradona (1986), sympathy by Paul Gascoigne (1990), restraint by David Beckham (1998), opportunism by Ronaldinho (2002) and persistence by Portugal in 2006.
All of these life lessons have been learned the hard way, and experience now says: "Do not expect anything other than England somehow, someway, messing it all up again."
And so 2010 is going according to plan. Despite being handed one of the easiest groups in the tournament, Capello's men have stuttered and stumbled to draws against both the USA and Algeria.
Simple passing and possession has become too great a task for a squad of talented Premier League players. Team unity has been replaced with infighting, Rooney has inexplicably turned into one of the worst footballers in the side and iron-man Capello is presiding over a minor mutiny.
England are on the brink ... cue a rollercoaster ride of drama, the usual incident of over-hyped injustice and a penalty or two - and then they can go home mission accomplished. Another World Cup spurned.
The worst thing about all of this is the Achilles heel of the England fan. Despite all the facts on show and the trends of history, the hard reality will never crush the molecule of hope that says: "They can still turn it around and win!"
To paraphrase the famous English comedian John Cleese: "It's not the disappointment that hurts, it's the hope." Let's see if Capello's men can deliver.