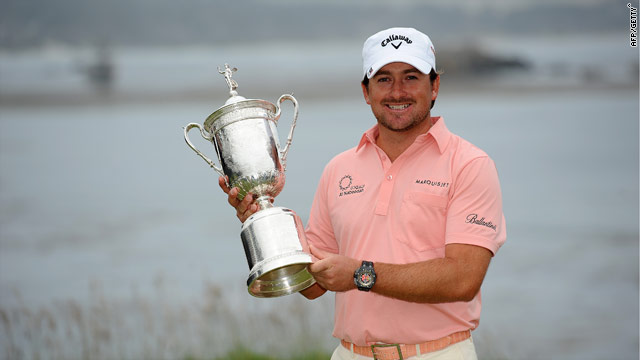 Graeme McDowell proudly holds the U.S. Open title after his first victory in a major.
In recent weeks, I've been more than happy to witness a couple of important sporting successes for the British Isles.
I was on hand for the recent ICC World Twenty20 cricket event in the Caribbean and was in Barbados for the final which saw England beat the Aussies very comfortably indeed.
If I enjoyed that, then what I've just witnessed at the U.S Open golf this week at Pebble Beach in California was truly special too.
Graeme McDowell of Northern Ireland won his first major against all the odds holding off the challenge of a pack of players including Tiger Woods, Phil Mickelson and Ernie Els.
He's just 30 years of age and I just loved the relaxed manner he went about his business when the pressure must surely have been intense.
At one point, when he was strolling down the final fairway, he turned to the tv cameras and spoke saying " My Dad's over there somewhere". And indeed he was. A proud proud moment on this Father's Day too.
An added bonus too for him is that he also becomes the first European player to win this tournament in four long decades.
The tournament as a whole was fascinating for me, especially in terms of the array of young talent on display, including one of McDowell's compatriots.
The two young guns who caught my eye though had mixed fortunes. Quite simply, Ryo Ishikawa is a credit to his country Japan and his profession.
Polite and supremely talented, it's no wonder his club manufacturers are reportedly prepared to spend big to create just the kind of clubs the young teen feels he needs.
What struck me is the way he's worked on his English too. It was little over a year ago that I first met Ryo at the Masters at Augusta.
We conducted an interview but it was only possible due to the fact his interpreter provided us with instant translation.
What a difference a little over a year makes. Here at Pebble I caught up with him on the practice range early in the week and what struck me was the effort he had put into trying to learn what for him must be a very difficult language. ( English)
I feel it says a lot about him as a person that he's gone to such lengths. He's still working on his linguistic skills of course but it's a measure of the man that's he's so determined to keep at it.
On the other side of the coin, Rory Mcllroy, also of Northern Ireland went into the tournament with such high hopes but he failed to even make the cut as his tournament came to an abrupt end on Friday.
Totally upstaged by Ishikawa, Rory - who won recently on the PGA tour - didn't cover himself in glory but hopefully he will have learned a valuable lesson.
You can't just "grip it and rip it" on every course you play and while I'm not suggesting that was the case here this week, there is I feel vast scope for him to mature as a golfer and I'm quite sure with the passing of time , he will do just that.
Certainly playing with the vastly experienced Tom Watson should stand him in excellent stead moving forward. Or maybe he just call his great friend McDowell for a few tips!