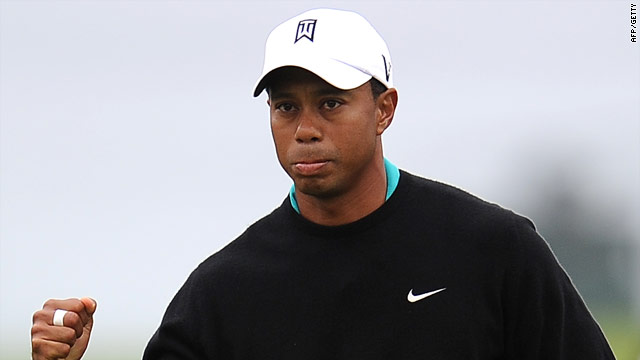 Woods pumps his first after picking up a rare birdie in his first round at Pebble Beach.
I always knew the golfing landscape had changed but this week at the season's second major the U.S. Open I experienced it first hand.
There was a time when the incessant buzz in the media center at these kind of events was all about not whether Tiger Woods was going to win but by how many.
How those times have changed! Of course, the American can instantly point to the fact he's still world number one (though Phil Mickelson's closing in on him fast) but there's no doubt the man who once dominated the majors and the build-up to them has been upstaged somewhat.
Here at Pebble Beach we're all more than aware of what Tiger in 2000 when he powered his way to a record 15-shot victory the last time the U.S Open was staged in this spectacular part of the world but it would be a brave and perhaps naive person who predicts a similar kind of outcome this time around.
Even though Phil disappointed with his first round 75 to leave him at four over par Thursday, for many media outlets he was still very much the story of the day.
That's not to say Tiger still can't go on and win. It personally wouldn't surprise me if he does, but the key point I'm trying to highlight here is that expectations are way down from when I covered my last major which was the Masters at Augusta as recently as April 2009.
Of course the fans out on the course are still clamoring for a piece of Woods but what I like is the fact that other players seem to be getting talked about more.
And that can only be good for the game.
Woods got a nasty dose of reality too during his opening round when a spectator confronted the 14-time major winner over his "none of your business" retort to a journalist who'd had the temerity to ask what the latest on his marriage situation was.
Tiger ignored the outburst and appeared to stay focused and calm but it's perhaps a taste of what he can – rightly or wrongly – expect at various times when he's out there trying to compete.
Perhaps the best way to silence all and sundry is to let his play do the talking and this week at Pebble you can be certain he'll be going all out to end his two-year major drought.