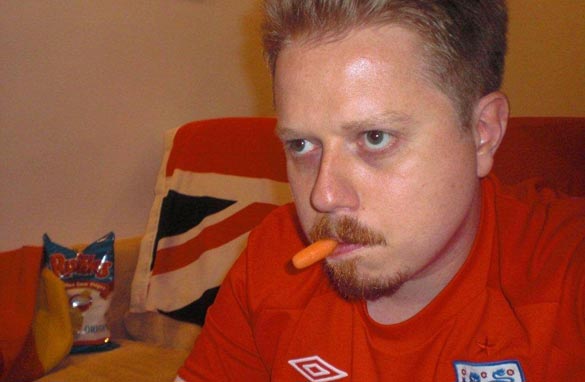 Our intrepid armchair fan is fresh as roses after a week of viewing games. CNN Photo
CNN Hong Kong Operations Supervisor Matthew Booth will attempt to watch every match from South Africa on television. Can he do it without being fired/divorced/committed to an asylum? Follow his updates here, as he becomes more and more incoherent from extreme sleep deprivation
Hong Kong, China - So my wife Veronica has started feeding me multivitamins to keep me alive.
"I don't want to spend our post-World Cup holiday in Malaysia with you sick and asleep."
Fair enough.
The first week of my TV watching epic has passed in a bit of a spongy blur.  It feels like a long time since Robert Green decided to give the Americans a sporting chance, since the Germans became the first ones to work out how a jubulani works, and an age since the Swiss showed Beckenbauer what a brilliant idea 'kick and rush' can be.  What a week it's been.
I wonder if the Swiss will name a cheese after the slayer of the Spaniards, Gelsen Fernandes?  It would have more holes than their defense, that's for sure.
But if we're looking for the best World Cup performance of Cheese naming quality, so far it has to be my good lady wife, Veronica, followed quickly by Lionel Messi.
Messi has been good but HE hasn't taken on my dog-walking duties.
No complaints at all have floated my way from my wife.  Even when she was on a work conference call with the U.S. Environmental Protection Department discussing their policies toward Asian Shipping emissions, and she had to explain away the shouting and expletive-ridden screaming in the background, she remained surprisingly good humoured.
We've actually watched a lot of the games together, not that she has a lot of choice given we only have one TV and I have the remote manacled to my wrist.  She has half an hour between the first and second game to watch whatever she likes at prime time.
"Oh, you're watching cooking show?"
"'It's NOT a 'cooking show', it's Top Chef!'"
My sleep patterns have been less of a pattern, and more of a talentless child's scribble.
The most absurd day was the first Sunday night going into Monday.  I had planned to sleep between midnight and 2:30 a.m. when the Australian humiliation against the Germans started, but Bernie Ecclestone conspired against me to schedule the Canadian GP to start at exactly midnight.  Cracking race, but it ate up my entire inter-match sleep time, resulting in only 46 minutes slept in a 24 hour period.
I'm averaging about four hours a day at the moment and the weekend snoozapalooza I'm planning can't come quickly enough.
Struggling through work has been something of an ordeal, but if people aren't ridiculing me and calling me 'such a loser' (My finger is pointed at you, Anjali Rao), they're being really supportive.
I could have kissed my manager on his big grizzled Scottish mouth when he said I could leave early on Wednesday.
My first exhaustion-enhanced piece of idiocy was Tuesday morning.  I was so thoroughly drained by the tedium of Portugal v. Ivory Coast that I showed up for the wrong shift at work.  I arrived at 5:50 a.m., two hours too early for my actual shift start time of 8 a.m.  Placing the blame for this squarely on Cristiano Ronaldo's impressively broad, sulking shoulders, I found that our office has an underused and extremely comfortable massage chair that I nestled into and slept until my proper shift started.
Have I dozed off at all during games?  Well, I must admit that I have. Once.
During the 2:30 a.m. game of Italy v. Paraguay, I had been bored into a coma by the end of the first half and fell asleep at the half time interval.  My dog Buzz came to the rescue three minutes into the second half by inserting his tongue into my ear, which was such an unpleasant way to wake up I had no problem remaining conscious for the rest of the game.  Good dog!
The TV coverage of the World Cup so far has been excellent.  The best piece of commentary I've heard was during the Holland Denmark game which went something like this: "The Dutch formation is sometimes 4-2-2-2. … sounds like an archbishop." But the most excited commentary I've heard was when young Winston Reid equalized in stoppage time for New Zealand against Slovakia in a game I thought would be forgotten even before it finished.
I did think it was a bit harsh that Reid was booked for taking off his shirt in celebration.  If I had scored a goal to earn my country's first-ever World Cup point, I think I would have pulled my pants down and run around the pitch with my jock strap hanging round my ears.  Imagine that in super slow-mo high definition.
It has been a World Cup that has started in super slow-mo, rarely reaching the heights we know that it can.  So we move on to the second round of matches, greedy for more.
The brave Swiss have led the way with their stunning victory that they will be yodelling about for years to come, and who could blame them?
After all, they have shown us that what this World cup really needs... is more cowbell.

ARMCHAIR FAN FACTS: WEEK 1
Diet colas drunk: 42
Baby carrots eaten: 2.5 kilograms (5.5 pounds)
Mini salami sticks consumed: 80
World Cup matches watched: 19 of 19
Cups of tea left to go cold: 2
Ice cream eaten: 2 liters (0.5 U.S. pounds)
Matches I wish I'd slept through: 4
(Italy-Paraguay, Holland-Denmark, France-Uruguay, Portugal-Ivory Coast)
Least amount of sleep in 24-hour period: 46 minutes