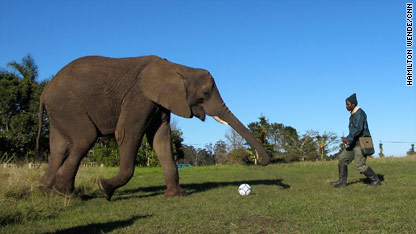 Namibia, one the players at the Knysna Elephant Park, is favorite to win this tackle.
Knysna Elephant Park, South Africa - The real giant of soccer isn't Ronaldo, Kaka or Messi - it's Namibia, a four-ton orphaned elephant with serious dribbling skills and a placid temperament unlike many of the stars on the human fields.
At the Knysna Elephant Park in South Africa, orphaned elephants have been kicking a soccer ball for years. This year the playing pachyderms have gotten into the spirit of the World Cup.
It's not just fun and games, though. "It's cognitive development therapy for them," says park manager Greg Vogt. "Soccer and playing with the soccer ball brings in an element in the relationship between each of the handlers and the elephants. Every elephant is an individual, a specific personality and every handler has his own personality."