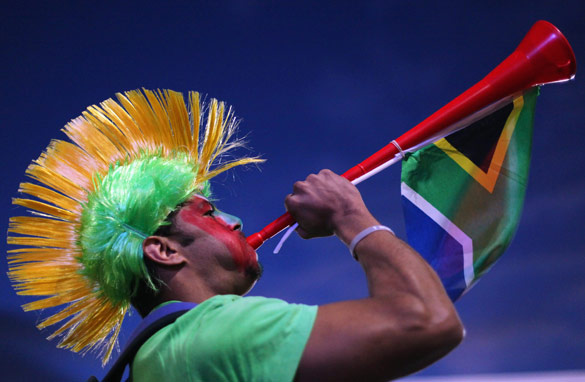 A South Africa supporter blows a vuvuzela at a fan park in Cape Town. Getty Images
Johannesburg, South Africa (CNN) - The vuvuzela – the plastic South African trumpet whose loud rasp has become synonymous with the 2010 World Cup – has proved a phenomenal success with soccer fans attending the tournament.
For many, this development has not been a good thing. While the troublesome trumpet does bring a new, authentically African vibe to the spectator experience , many complain it is at the expense of other enjoyable facets of the match-day atmosphere.
The drone that collective vuvuzelas make is awesome. Johannesburg's Soccer City resembled a giant beehive when Bafana Bafana played there on June 11, and when the crowd coordinates to produce the sound in waves, the effect is like nothing heard in a football stadium before.
However, it does drastically reduce singing among fans, which for an avid football follower is one of the highlights of attending a live game. The songs of teams from around the world – though often crude, rude and offensive – can often be humorous, touching and emotional.
It is often remarkable how a collective of people can respond as one to an incident on the pitch through song. The vuvuzela reduces this reflex.
There is also less room for other musical instruments to convey their sound. The samba drums of Brazil were very muted at Ellis Park this week, and that wasn't just because North Korea put up such a good fight.
However, for fans sitting in the comfort of their homes, watching the World Cup from afar, safe in the thought that the vuvuzela nuisance is only to be found in South Africa, there is a word of warning: beware, the trumpet is about to go global.
World Cups often add new elements to the lexicon of the football fan. The 1986 edition in Mexico saw the "Mexican Wave" created, the World Cup in Argentina in 1978 gave soccer the unnecessary use of ticker tape and England's hosting in 1966 saw the first mascot used.
So could 2010's legacy be an army of fans returning from South Africa to their home nations, vuvuzela in hand, with a serious intention to use them on the terrace of their local club? Would you bet against the drone of a vuvuzela being present at the first game of the English Premier League?
The early signs seems to suggest this prediction may soon be a reality in England, after British retailer Sainsbury's revealed it had experienced a surge in demand for vuvuzelas.
The supermarket group said this week it had sold around 50,000 vuvuzelas, and expected to sell out its stock of 70,000 within two days. Is this a bad thing for world football? Either way, the vuvuzela phenomenon shows no signs of stopping soon.