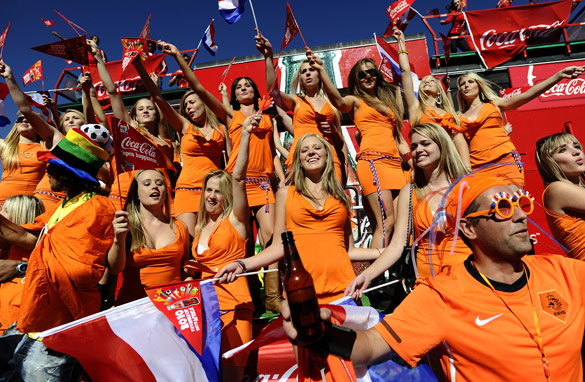 The story of the women in orange has made headlines worldwide. AFP/Getty Images
Johannesburg, South Africa - If FIFA really wants to stop unofficial brands from getting publicity at the World Cup, it should consider relaxing its approach off the pitch.
By detaining and questioning 36 young women for wearing orange mini-dresses, FIFA has given a Dutch beer company exactly the exposure it was seeking. The ambush marketing exercise has made headlines worldwide. It was even front page news for one South African paper.
No-one would be talking about this now if FIFA had simply ignored the women. Two of them could end up in jail. Criminalised for wearing a bright, short dress; imprisoned, alongside murderers and rapists. What good would that do?
Of course football's governing body needs to protect the rights of its sponsors. They pay billions of dollars for exclusive use of World Cup branding and the tournament is FIFA's main source of income.
However, the controversial mini-dresses had a logo the size of my little finger, on the hem. They were no different to the bright, orange outfits worn by most football-loving Dutch fans.
FIFA does care about football. President Sepp Blatter has his critics and may appear eccentric at times but he is passionate about the game. His organization stands up to unwanted political interference in the affairs of national football associations, they invest in the sport's grassroots and contribute to charity work.
However, there is a corporate stuffiness that is threatening to stifle football's natural joie de vivre.
Rather than advertising to fans, it's almost as if they are being told what to eat, what to drink, which car to drive and what credit card to use. The message is: "Come to the World Cup – as long as you live your life the FIFA way."
Where will it end? Will football fans have to stop wearing replica kits unless they are made by an official World Cup sponsor? Will countries have to cancel agreements with rival sportswear manufacturers?
Why doesn't FIFA simply hand out plain overalls at the ticket gates so all supporters can look the same – happy, clappy, vuvuzela-blowing automatons in a sanitized sporting stadium, devoid of diversity and individual character.
As a sports reporter I normally dread working in football crowds - they make my life a misery. But after Holland's group game against Denmark we filmed in the middle of 83,000 people without any trouble at all.
Although it made my life easier, it also raised concerns about the increasingly corporate direction the World Cup seems to be heading in.