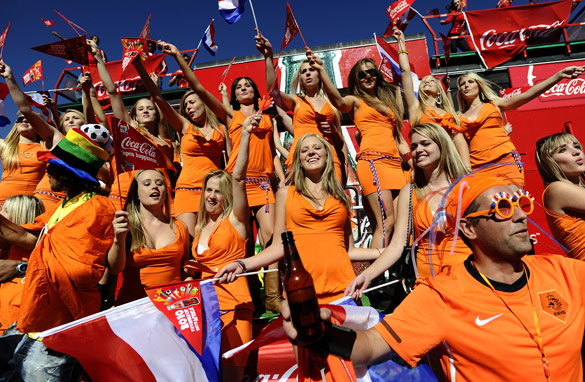 The story of the women in orange has made headlines worldwide. AFP/Getty Images
Johannesburg, South Africa - If FIFA really wants to stop unofficial brands from getting publicity at the World Cup, it should consider relaxing its approach off the pitch.
By detaining and questioning 36 young women for wearing orange mini-dresses, FIFA has given a Dutch beer company exactly the exposure it was seeking. The ambush marketing exercise has made headlines worldwide. It was even front page news for one South African paper.
No-one would be talking about this now if FIFA had simply ignored the women. Two of them could end up in jail. Criminalised for wearing a bright, short dress; imprisoned, alongside murderers and rapists. What good would that do?