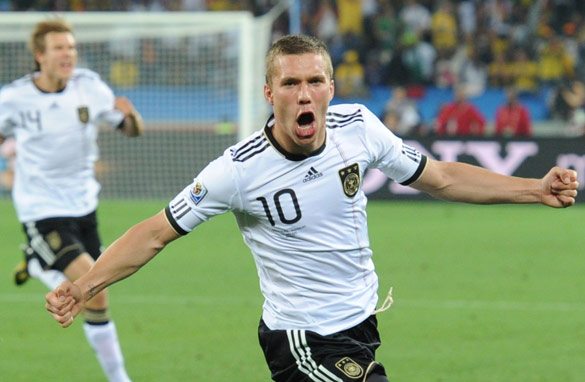 Germany's striker Lukas Podolski celebrates after scoring against Australia. AFP/Getty
On Sunday afternoon, I was speaking with a German journalist and he told me, in a disappointed tone of voice: "You know, practically all of the national teams have a good nickname. Super Eagles, Azzuri, Le Bleus. We don't. Just Die Mannschaft. Do you have a suggestion?"
At the time, I didn't come up with any bright ideas, but after watching Germany steamroll over Australia, I have a name that could fit will with this strong, fast and ruthless team – Die Dampflokomotive (The Locomotive).
I know the Socceroos aren't the strongest team on the planet, and that Tim Cahill was sent off in the second half, but Germany could have scored six or seven goals in Durban on Sunday night.
They were extremely organized and played some great attacking football with passes zipping by the Aussies as if they weren't even there. Strikers like Lukas Podolski and Miroslav Klose who this past season combined for a paltry five league goals with FC Koln and Bayern Munich respectively, looked like deadly finishers once more.
Congratulations to coach Joachim Low, it seems he has revitalized a side that many people, including myself, didn't have among the favorites.
What is especially impressive about Germany is the fact they easily overcame the loss of inspirational captain Michael Ballack. The midfield maestro has led by example for so many years and I thought they would miss his experience and awareness in midfield.
Instead, Sami Khedira and Bastian Schweinsteiger ran the show in the center of the park. And watch out for Mesut Ozil. This kid can play and will be the offensive spark for a side that normally puts substance over style.
So what can we expect from Die Dampflokomotive? In my view, we can expect them to power through to the quarterfinals, and then, anything can happen. What still remains to be seen is whether this side is too inexperienced to be a real contender.
This is the youngest German squad at a World Cup since 1934 and in a tense game against a top opponent, their lack of maturity could come back to haunt them.
Thirteen members of the squad will be playing their first ever tournament and 12 of the 23-man party have less than 10 caps to their names. That said, three of the squad are graduates of the first eleven that won the Under 21 European Championships last year.
For now though, Germany should enjoy their four-star debut in South Africa. World watch out, here comes a locomotive that will be hard to stop.