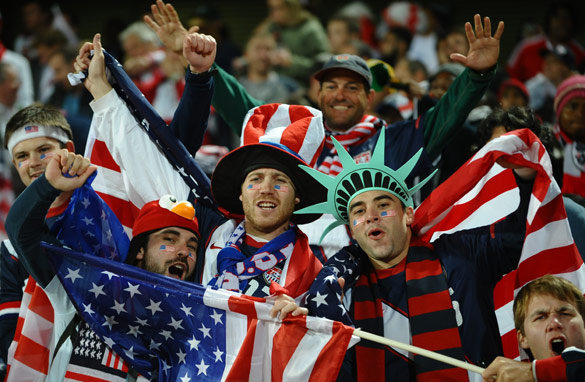 Team USA fans cheer for their team ahead of Saturday's match in Rustenberg. (AFP/Getty Images)
Rustenburg, South Africa - The Royal Bafokeng Stadium in Rustenburg provided a fitting venue for the hotly-anticipated clash between the so-called inventors of the game, England, and a USA side boasting a growing global reputation.
The two pre-tournament favorites to progress from Group C vied in a setting that was as atmospheric and all-together African as the organizers could have wished for.
With a faint fragrance of campfire smoke filling the cool night air, fans mingled and made merry in what was a party atmosphere in rural South Africa.
Fans of the USA soccer team are often derided by supporters of nations that boast a richer history of competition; but though their team have yet to win a major trophy, the passion shown by their followers is up there with the best of them.
Americans turned out en masse in all manner of costumes to represent for their team: from the man dressed as Captain America to the brave bare-chested chaps covered in face paint, the color and camaraderie was compelling.
Not that England fans were completely lacking in creativity as notable examples, such as the fan who made a hat resplendent with vuvuzelas and another group who dressed up as the royal family, proved.
The game itself didn't quite live up to the classic many in attendance had dressed up for however. England's early lead and optimism was soon replaced with worry and wayward passing as their resolute opponents refused to be perturbed from their task.
Both sides had flashes in front of goal before Clint Dempsey's simple shot somehow, unbelievably found its way past the flummoxed England goalkeeper Robert Green.
It was an horrendous error which the player will struggle to disassociate himself from, but in truth the final scoreline reflected the balance of play; Bob Bradley's men deserved their point.
Both teams will still hope to qualify from the group but it is the world's best-paid coach Fabio Capello who has more head-scratching to do ahead of the next tie.
His side, who many have tipped for big things in 2010, were off the pace and will need to improve to be serious contenders.