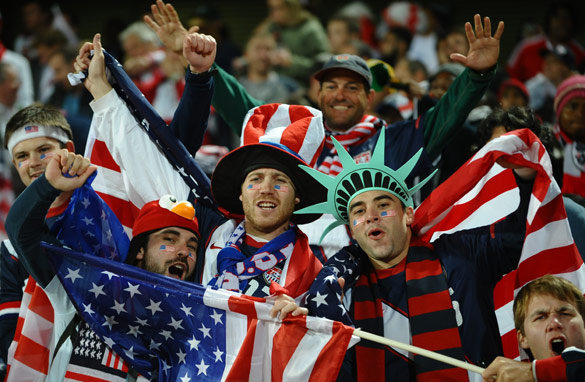 Team USA fans cheer for their team ahead of Saturday's match in Rustenberg. (AFP/Getty Images)
Rustenburg, South Africa - The Royal Bafokeng Stadium in Rustenburg provided a fitting venue for the hotly-anticipated clash between the so-called inventors of the game, England, and a USA side boasting a growing global reputation.
The two pre-tournament favorites to progress from Group C vied in a setting that was as atmospheric and all-together African as the organizers could have wished for.
With a faint fragrance of campfire smoke filling the cool night air, fans mingled and made merry in what was a party atmosphere in rural South Africa.
Fans of the USA soccer team are often derided by supporters of nations that boast a richer history of competition; but though their team have yet to win a major trophy, the passion shown by their followers is up there with the best of them.