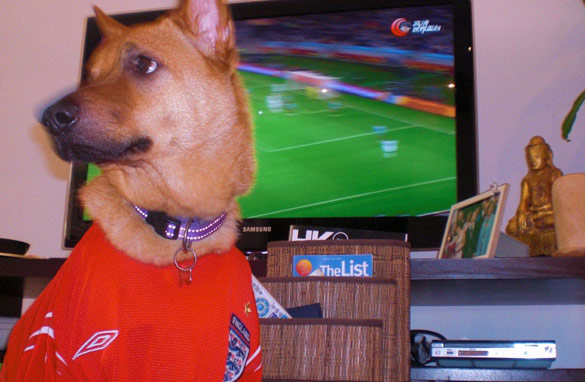 My dog, Buzz wasn't really interested in watching France vs. Uruguay. Matthew Booth/CNN.
CNN Hong Kong Operations Supervisor Matthew Booth will attempt to watch every match from South Africa on television. Can he do it without being fired/divorced/committed to an asylum? Follow his updates here, as he becomes more and more incoherent from extreme sleep deprivation.
HONG KONG - I don't think I would be exaggerating when I say that today is the greatest day in the history of mankind.
But then the first day of every World Cup is the greatest day in the history of mankind... until the next World Cup.
This is because today, in this wonderful moment, the World Cup is perfect. It is unstained by wrongly disallowed goals, there have been no contentious sending offs, no diving and no unjust penalties.
All the World Cup has right now, on this Friday in June, is hope, belief, the pure joy that only football can bring, and this feeling is one of the very few things that is shared by billions of people around our small blue green planet.
All this only lasts until the kick off of the first game, the first yellow card, the first dive, but it's a special moment.
Today is also the first day of my marathon television watching epic. It's fair to say I'm a little excited and prone to hyperbole.
It's also fair to say that I wasn't that focused today at work. I spent a large part of today watching highlights of past world cups on YouTube, re-living the full horror of various England penalty shoot-out failures that feel just as much like eating a bad prawn today as it did at the time.
I also watched various goading clips edited by Americans with such titles as 'England Sucks' as a warm up to the fight disguised as a football match that England vs. USA is sure to be.
All this rather obsessive clip watching worked me in to such a fever of excitement that I was unable to take the nap I had planned after leaving work.
Instead I stared at my bedroom ceiling, painting images in my mind of Steven Gerrard lifting the World Cup, an England goalkeeper actually saving a penalty, Wayne Rooney NOT being sent off and various other unlikely dreams.
Feeling rather flushed with my 2-1 victory for the South Africans over Mexico (on my Xbox) and convinced that I had somehow influenced the result of the game by tilting the cosmos in the direction of South Africa, I made my way to the pub which my friends and I have designated as our world cup headquarters.
My wife Veronica joined me at the pub to watch the opening game and we were surrounded by probably a dozen close friends. It was magnificent to see Desmond Tutu dancing away in his scarf in the stands.
The pub was certainly on the side of South Africa, I think everyone wants the hosts to do well. It would be difficult not to feel that way after seeing the unbridled enthusiasm of their legions of fans.
The first goal of the World Cup came as I had my nose pressed against the window of the pub looking in. I was outside in the rain, waiting to be interviewed by Jonathan Mann about my mission. It was a cracking goal and I was glad I wasn't on-air at the time because I shouted like I'd supported South Africa all my life when it hit the back of the net.
The interview was fun. I didn't think I disgraced myself too badly as I went back inside for my final beer and the last 20 minutes of the game.
I was a little disappointed to see the Mexicans equalize but on balance they probably deserved it and the South Africans can feel good about their team which came so close to getting all three points.
When they hit the post in the last minute I thought the communal cry of anguish would shatter the windows.
At midnight Veronica and I walked Buzz before returning home. Buzz will probably watch more games than any other dog in the world over the next four weeks. Mind you, dogs can only see in black and white so he'll be hard pressed to tell you who's playing.
When I got back to the flat, Veronica went to bed, leaving just Buzz and me to watch the next game. I switched to Diet Pepsi and opened the first kilo of mini carrots in preparation for France vs. Uruguay.
I'd probably be happier in the pub, but this is a marathon, not a sprint and I need to pace myself. I'm also quite aware that four weeks in the pub might actually kill me.
Buzz didn't last 10 minutes into France-Uruguay. He was asleep and twitching, dreaming of chasing cats or lady dogs or disgusting smells or something. Can't say I blame him frankly.
So we're finally off and running after so much waiting, so much YouTube.
Two games down and 62 to go. I'm now off to bed at 4:30 a.m. to have a vuvuzela infused dream.
The greatest day in the history of mankind? Well maybe not, but It was pretty good wasn't it?