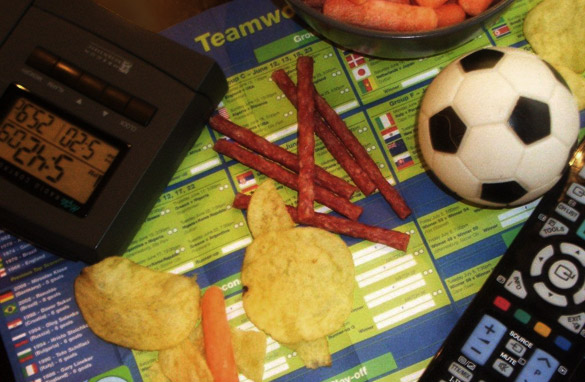 TV remote? Check. Snacks? Check. Wallchart planner? Check. All essential for World Cup watching. (CNN)
CNN Hong Kong Operations Supervisor Matthew Booth will attempt to watch every match from South Africa on television. Can he do it without being fired/divorced/committed to an asylum? Follow his updates here, as he becomes more and more incoherent from extreme sleep deprivation.
Hong Kong - Declaring that you are going to watch all 64 matches of the World Cup in the middle of the night elicits a variety of bemused and derisory reactions from people.
"What, even New Zealand-Slovakia?" is a common question. "That's a bit mad isn't it?" is another. "Oh Matthew, don't be silly" was a nice one from my mum.
My wife is having a real problem accepting this mission I have given myself and as recently as last weekend asked me - again - which matches I was going to watch.
"FOR THE LAST TIME, ALL OF THEM!"
"Hey, less of the shouting, more of the explaining"
"I HAVE been explaining and that didn't work, so now I'm trying shouting!"
I have also gently pointed out that I have tried to do this before.
In 2006 I was doing rather well until England's rather dismal performances took the wind out of my sails, and then the loss on penalties to Portugal burst my bubble entirely. I went to bed sulking, only to return to the television for the final which I grumpily watched, arms folded and scowling.
1998 was the best I have ever done at watching all the matches. The only one I didn't see was the third-place playoff match, which my alarm failed to wake me for.
So I've never managed it before, and this year it'll be harder than ever. The time difference between Hong Kong, where I live, and South Africa means that matches will start between 10 p.m. and 2:30 a.m. local time, and as I often work on the CNN Asian morning shift, sometimes I will start work less than an hour after the late-night matches finish.
Brutal.
I'm also deeply aware how irritating and disruptive this will be to my darling wife, Veronica, who will have to live with a Zombie-like football ghoul at least until the group stages are over. Not to mention the alarms going off in the middle of the night and the shouts of excitement that I think are "oh so quiet" being nothing of the sort.
Problematic.
So, armed with nothing more than a TV remote, crates of Diet Coke, an endless supply of baby carrots and my loyal dog Buzz, I look forward to the challenge of keeping my job and marriage intact while watching EVERY match of the 2010 World Cup in South Africa.
And yes, even New Zealand versus Slovakia.