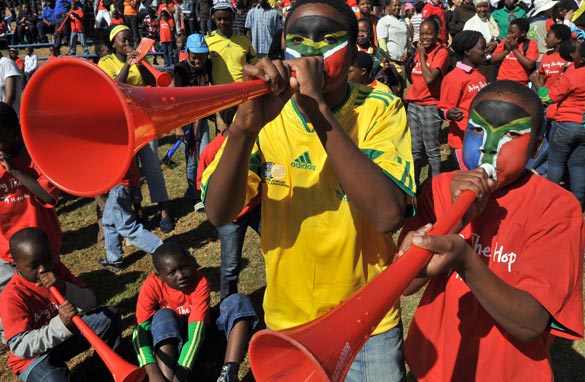 South African children blow their vuvuzelas at a pre-World Cup charity event in Pretoria. AFP/Getty Images.
Johannesburg, South Africa - All of us in South Africa are trying to come to terms with the most unique and unavoidable aspect of this World Cup: the booming, ear-splitting cacophony of the vuvuzela, a horn blown with gusto by seemingly all native football fans.
Although the tradition is only a couple of decades old, it has already sharply divided opinion in South Africa and is about to do the same to the hundreds of thousands of visitors arriving for the tournament.
When it comes to the vuvuzela, you either love it or hate it. There's no middle ground.
Even in the sanctuary of a hotel room at night you will be able to hear one being blown by somebody, somewhere. It sounds like an industrial fog horn blaring out a warning to passing ships – but we're nowhere near the coast in Johannesburg.
It's the same sound that wakes most journalists in the morning. You can tell that I'm erring towards the "hate 'em" camp.
It is common knowledge that the vuvuzela was redesigned in recent years because its din was so dangerously loud. Scientific studies have apparently shown that prolonged exposure to the instrument's noise can cause permanent ear damage.
Many countries have banned smoking in the work place because it unfairly threatens the health of non-smokers. So why not ban the vuvuzela from matches? Don't footballers deserve the same protection at their "place of work"?
Such draconian measures seem unlikely. FIFA president Sepp Blatter has publicly backed the vuvuzela and, judging from the numbers on the street, they are fast becoming the must-have item for fans from any country.
Horns aplenty thundered away on Vuvuzela Day, 48 hours before the start of the World Cup, at an open top bus parade for South Africa's football team. A pregnant CNN colleague, reporting from the event, said she could feel her baby jumping around like crazy. The deafening noise can penetrate any barrier!
I know I'm sounding like a killjoy, but the vuvuzela isn't an ancient South African custom. It is simply a marketing ploy to create an artificial party atmosphere. Surely South Africa can create a carnival atmosphere of football without the need to blow their own trumpet?