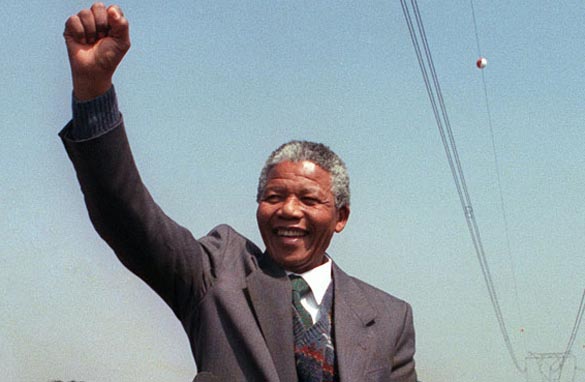 Nelson Mandela pictured in 1990, four years before becoming South Africa's first black president/Getty Images.
Johannesburg, South Africa - It is said that Nelson Mandela, inmate number 46664 at the notorious Robben Island prison, helped to while away 18 years of his time in the jail (the bulk of his 27-year incarceration) by watching games of football played among inmates.
Sport often has a way of providing escape and joy to those who participate, to unify disparate people even in the most unlikely of circumstances, and it seems this applied to the men who had been made captive for their opposition to the ruling racist apartheid regime of the time.
Jacob Zuma, the current president of South Africa, was a referee for the prisoners' team matches while former defense minister Mosiuoa Lekota and Tokyo Sexwale, who helped to draft South Africa's new constitution in 1994, also played leading roles in the games.
South Africa entered a new era of its history when the one they call "Madiba" was released from his cell confines in 1990, before the then 71-year-old went onto become president of the new "Rainbow Nation" four years later.
The task facing the newly-appointed leader was great: to forge a new future of unity and fairness for a nation previously defined by division and inequality.