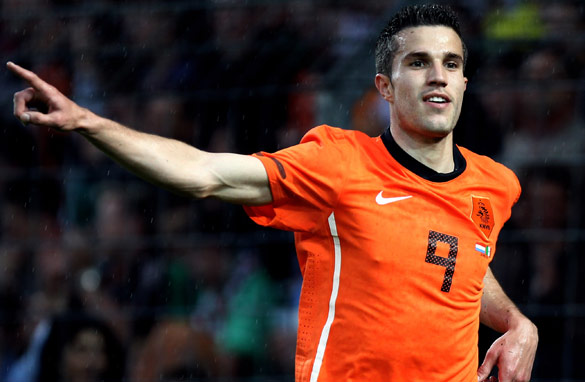 Robin van Persie could be playing in a World Cup final, according to CNN's Pedro Pinto/Getty Images.
Johannesburg, South Africa - I have arrived in Johannesburg and soccer fever has started to take over my mind, body and soul. The blaring of the vuvuzelas outside my hotel has helped me get in the mood. With the World Cup kicking off in just a handful of days, I feel inspired to reveal my predictions for the South Africa event.
After successfully picking Italy's Internazionale to win the European Champions League, I hope my crystal ball is right again as 32 teams start their quest for the solid gold statuette on Friday!
So here we go…
World Cup winners – Netherlands to beat Argentina in the final
I am not old enough to remember the magical days of Clockwork Oranje, when the Dutch national side dazzled planet football with their awesome combination of skillful passing and dynamic movement. It was dubbed "total football" for good reason. The Netherlands lost back-to-back World Cup finals in 1974 and 1978, and that heartbreak has not been forgotten by a nation who has constantly flattered to deceive in FIFA's showpiece event. Now, however, they have all the ingredients necessary to come out on top.
In my opinion, this is an extremely balanced side. Arjen Robben's impact has been keenly anticipated, and even though the Bayern Munich winger's chances of beating injury to take part now look slim, there are so many weapons in his team's arsenal. Robin van Persie should be raring to go following a season where he rarely played for Arsenal. Wesley Sneijder must be on cloud nine following a historic treble with Inter for whom he was instrumental. And let us not forget the influential Mark van Bommel who sets the tone in the center of the park. Defensively, they have plenty of talent as well. John Heitinga and Joris Mathijsen have formed a solid partnership in the center of defense.
One final word about the coach. Bert van Marwijk has been able to nurse some big egos in the squad and convince his players to work hard for each other. Do not forget the Netherlands have not lost since September of 2008 and that momentum will help them immensely in South Africa.
Overachievers – Serbia and Uruguay
Not many people have talked about either of these sides leading up to the World Cup, but I believe they will turn some heads and can both make the quarterfinals.
Let's start with Serbia. They have the right mix of experience and youth in a squad which offers veteran coach Radomir Antic plenty of options. Their defense is led by tough tackler Nemanja Vidic and their midfield is marshaled by Champions League winner Dejan Stankovic. Add giant striker Nikola Zigic and speedy winger Milos Krasic to the mix, and you have a very dangerous team.
Uruguay will also surprise a lot of football fans. They have enough quality to navigate pass an unpredictable first round group and can reach the last eight of the competition. With experienced coach Oscar Tabarez calling the shots, and Diego Forlan firing in the goals, this is a team that cannot be underestimated. La Celeste's defense will be tough to beat. Diego Lugano is a lion back there, and their wing-backs Diego Godin and Jorge Fucile are extremely versatile.
Underachievers – Germany and Italy
They have seven World Cup titles between them, but both Germany and Italy will be going home early in 2010.
Without Michael Ballack, Joachim Low's side will struggle to assert themselves in the competition and won't get past the quarterfinals. All of their strikers had poor seasons and I just don't see too many exciting players in their line-up. As always, they will be solid in defense, but will find it difficult to hit the back of the net.
As far as the defending champions are concerned, they could be heading home after the round of 16. They are old, slow and predictable. With midfield maestro Andrea Pirlo struggling for fitness, the Azzuri will miss a playmaker who can make a difference. Defender Fabio Cannavaro is past his best and the same can be said for most of the players in their starting line-up.
Other notables – Argentina, Spain and England
Argentina will lose in the final to the Netherlands after beating Spain in the semifinals. The defending Euro 2008 champions could still win it all but they have had too many injury problems leading up to the World Cup. I can't see their top players staying in top shape and top form throughout the tournament. As far as England are concerned, they will lose to the Netherlands in the semifinals, which would still be a good result for Fabio Capello's men.

Player of the tournament – Lionel Messi
After scoring a whopping 47 goals in 53 games in all competitions for Barcelona, Messi will light the tournament on fire. He has been criticized for his poor scoring record with Argentina (only four goals in qualifying) but that will change in South Africa. Diego Maradona will use him in a more central role and little Leo will shine like never before in his nation's legendary number 10 shirt.

Top scorer – David Villa
One of the deadliest strikers in the game today, Villa will benefit from playing with assist master Xavi and he will score at least six goals in the competition. With Fernando Torres struggling for fitness, the new Barcelona signing will lead the Spain attack and celebrate plenty of goals in South Africa.