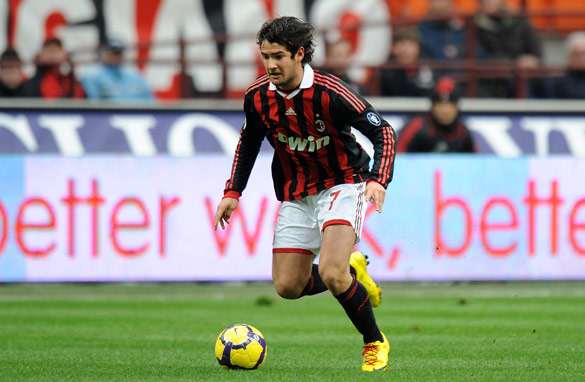 Pato was one of AC Milan's star players despite an injury-hit season/Getty Images.
When the World Cup comes around, as a football fan, I want to see the best players on the planet on show. Coaches of national teams can pick 23 names for their respective squads, so you would think they would have enough chances to get it right.
However, glancing at the team sheets of some of the contenders, there are many stars missing and I am not happy about it. Furthermore, some omissions will be the reason why some of these teams will fail in South Africa.
Let´s start with Brazil. The five-time champions have probably the best defensive unit in their history heading into a World Cup, featuring a stellar goalkeeper in Julio Cesar and players like Maicon, Lucio and Daniel Alves. However, in attack, there is a shortage of creativity, speed and flair, and coach Dunga is to blame.
The omission of Alexandre Pato is baffling to me. Sure, the young forward was injured for a large part of the season and just now returned to full fitness. However, even with all the time he spent on the sidelines, the AC Milan standout still scored 14 goals in 30 games. If I was picking Brazil´s squad he would be one of the first names on the team sheet. He offers something no one else on the team has and, make no mistake about it, he will be missed.
Brazil´s fierce South American rivals Argentina also left behind some notable names.
 It is always easy to pick on Diego Maradona, isn´t it? However, there is no question that European Champions League winners Javier Zanetti and Esteban Cambiasso should both be traveling to South Africa.
Maradona´s team has plenty of talent, but would have benefited from some extra experience and class. Zanetti and Cambiasso were ever-present for Jose Mourinho´s Internazionale this season and would have been invaluable assets at the World Cup.
Zanetti can play anywhere across defense and midfield, while Cambiasso is one of the best midfielders on the planet. Even if he would be playing second fiddle to captain Javier Mascherano, Cambiasso would still have been an important player for Los Albicelestes. Plus, there is no reason why he could not play alongside Mascherano. Especially considering Juan Sebastian Veron may be the other starting central midfielder.
Let´s dissect the picks of another controversial coach, Raymond Domenech. As if to rile the French public's dislike of him further, the coach of Les Bleus decided to leave out the nation´s most exciting forward, Karim Benzema.
Is he overweight? Yes. Did he have a great season with Real Madrid? No. However, some of the other strikers going to South Africa didn´t set the world alight either and Benzema still has the talent that can change the game at any time, even coming on as a late substitute. Domenech definitely missed a trick here and will pay the price. Up front, France will rely too much on a man who doesn´t have either the work rate nor motivation to lead the line, Thierry Henry.
Defending World Cup champions Italy also left behind a couple of potential game winners. Antonio Cassano is the obvious example of this. I understand Marcello Lippi believes the Sampdoria forward can be a disruptive influence on the team, and up until this season, I would have agreed with him. However, Cassano is a changed man. His serious relationship with an Italian swimmer has made him more content and mature and there is no doubt he would have been a key player for a side that relies too much on older legs and established names. Cassano would have been a breath of fresh air that could have inspired the Azzuri to an extended stay in South Africa. Without him, I don´t see them making it past the round of 16.
So those are my views concerning a quartet of traditional World Cup contenders, that this time around will be coming back from FIFA´s showpiece event empty-handed. For a competition like this, you have to take your best men. And in my opinion, none of these teams are doing that.
One final thought... I really hope Fabio Capello takes Joe Cole to South Africa. He is an extremely talented player and would add a dimension that England certainly don´t have – someone who can dribble and play between the lines, someone who can beat a defender one-on-one. And every team needs that.