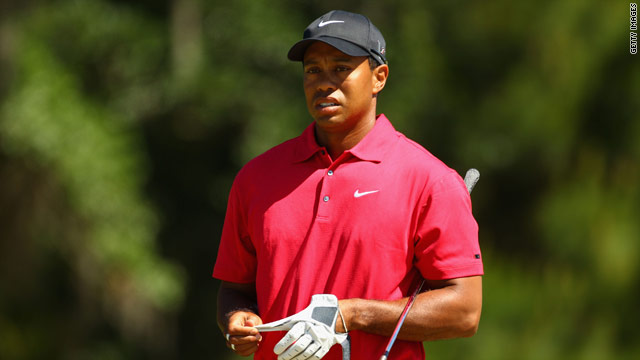 Tiger Woods pulled out of the Players Championship on the final day with a neck injury.
U.S. Ryder Cup captain Corey Pavin caused quite a stir when he said Tiger Woods would not be an automatic choice in his team for the Ryder Cup clash against Europe at Celtic Manor later this year.
Pavin was reacting as Woods slipped further outside the eight guaranteed selection spots in the latest American standings, meaning if the situation remained the same the world number one would have to rely on his largesse to make the team as one of his four picks.
All-time majors leader Jack Nicklaus was unusually outspoken when saying Pavin would need a "brain scan" if he did not to pick Woods, but with respect to a golf legend, the bald facts, not to mention the world number one's current off course difficulties, do not make this so cut and dried.
Because for all his supreme talents, Woods has a losing Ryder Cup record of 10 wins against 13 defeats.
And when Woods was sidelined by injury for the 2008 contest at Valhalla in Kentucky, the U.S. shrugged off the loss of their star player to thrash Europe and regain the coveted trophy.
Without the focus on Tiger, the American team appeared more united and the likes of Kenny Perry and Boo Weekley played out of their skins in a home victory in one of the best contests in the history of the biennial showpiece.
Out of form, nursing a problematic neck injury and without a coach after the departure of Hank Haney, Woods certainly needs to up his game over the next couple of months to force his way into the top eight.
All this against the backdrop of a well-publicized scandal which forced him to go into self-imposed exile as he battled personal demons with golf far from his mind.
It was a measure of Tiger's talent that he returned to tie for fourth in the Masters, despite playing by his own admission "military" golf, hitting it left then right from tee to green and only saved by his amazing recovery shots.
His performances since Augusta have hardly inspired and he was forced to take a second, this time enforced break, after pulling out of the Players Championship through injury.
Fast forward over four months to Celtic Manor and a fanatical home following in autumnal conditions in Wales which will favor the Europeans, who are also packing the higher echelons of the world rankings at the moment.
If Woods cannot make the team on merit, Pavin would do well to leave him at home and for his picks put his faith in the players that served the U.S. so well in 2008.
Because make no mistake, a lethal mix of partisan and at times over-excitable Ryder Cup galleries and a British tabloid media hungry for exclusives could prove a very unwelcome distraction for both Woods and his teammates, not to mention the organizers.
Tiger's non-appearance will also not make a jot of difference for the Ryder Cup's bottom line with the event already a sellout and lucrative television deals done long in advance.
For sure, the same cannot be said for the regular PGA Tour where TV ratings are down due to his absences, rescued in part by the fine form shown by his arch-rival Phil Mickelson, who is a certainty to make the U.S. team and will be a key figure in their title defense.
Whether Tiger is in Wales with him remains a matter for debate, but the temptation to pair the two golfers in the world will also be one that Pavin will resist.
His 2004 predecessor Hal Sutton sent them out together at Oakland Hills, but after two straight defeats the experiment was quickly abandoned as the U.S. stumbled to a record defeat.
Pavin will be desperate to avoid that sort of humiliation but will face a tough decision over Woods if his mini-slump continues over the next few months. With a reputation as a no-nonsense competitor it is clear from his recent comments that he would not shy away from the previously unthinkable and leave Tiger at home.