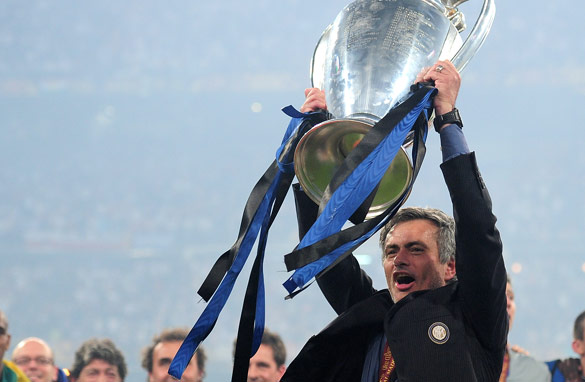 Jose Mourinho lifts the European Cup for the second time in Madrid.
A tactical master class in Madrid saw Jose Mourinho give Internazionale their first European Cup since 1965. In two years at the San Siro, the charismatic and controversial Portuguese coach built a team that relied on hard work, discipline and resilience to become kings of the continent once more.
I saw it coming. Leading up to the semifinal tie against Barcelona, I wrote that Inter would eliminate the defending champions and go on to win the title. My opinion was formed after watching the Italian giants teach Chelsea a footballing lesson that Carlo Ancelotti will not forget anytime soon. So, indeed, they went on to contain the almighty Barca and then prevailed against Bayern.
There are many unsung heroes in Inter's line-up. I have always been a big fan of Esteban Cambiasso. The way he plays is so simple and he makes the creative players around him shine. As we say in Portugal, he carries the piano so other ones can play it.
It is astounding to me that he has not been picked for Argentina's World Cup squad. His compatriot Walter Samuel will be in South Africa and during Inter's victorious campaign he lived up to his nickname of "The Wall." The ferocious tackler was simply insurmountable at the center of Inter's defense.
Back to Mourinho. I know coaches do not score goals and they do not win games, but he was highly influential throughout Inter's victorious campaign and Saturday's final. He spun a defensive web that had the best teams in Europe trapped, dazed and confused, unable to find a way out and unable to break them down.
His style has been criticized for its disregard of entertaining football, but you have to respect his managerial skills and ability to get the best out of his players at all times.
So what now for Jose? Another fascinating challenge as he takes the reins at Real Madrid. It is a match made in football heaven, isn't it?
Well, some may say it is a combustible situation. A mix that would put world's most high-profile club which has ruthlessly hired and fired ten coaches in as many years in their pursuit of glory, in the hands of a coach who likes to do things his own way and demands loyalty.
The explosive potential could lead to disaster, however, we should all know better than that by now. My understanding is that Mourinho has been offered a four-year-deal worth a reputed $12 million per season - a contract that should ensure some much-needed stability in direction for the club.
Even though Real have not won the European Cup in eight years and have been knocked out in the last 16 consistently, they will be a different proposition with Mourinho.
He will surely bring in some familiar faces (Maicon, Diego Milito) that are already well-versed in his football philosophy, and then he will go out and get a star player to complement his midfield.
Steven Gerrard, Frank Lampard are possibilities. Whoever he gets and however he builds his team, you can be sure of one thing. He will be successful.