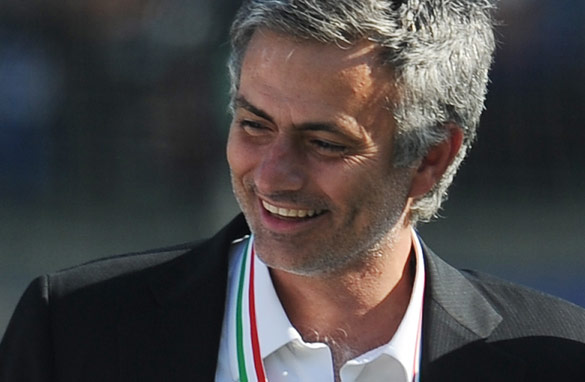 Jose Mourinho celebrates his latest triumph (Getty Images).
Sunday saw Barcelona and Internazionale crowned champions of Spain and Italy respectively; in my view, both clubs were worthy winners of their league titles.
Let's start with Barça. After a historic 2008/09 season which saw them win an unprecedented six trophies, it was inevitable this year would be a letdown. There would be no way Pep Guardiola could inspire his group of players to do it all again.
However, their surprising defeat in the Copa del Rey aside, the Blaugrana actually came close to another impressive trophy haul.
They narrowly lost to Inter in the Champions League semifinals and made sure they would not end the season empty handed by winning La Liga on the final day with a record points total.
At the center of their latest contest was a duo that has to rate as one of the best of all-time. Xavi Hernandez and Leo Messi. These two players have an understanding which led to a large percentage of the goals netted by Barcelona this season.
The Spanish midfielder finished the season as the king of assists, and what can be said about Leo? Wow! 46 goals in all competitions this season, and he is not even an out-and-out striker. Simply incredible.
I will express my sympathy for Real Madrid manager Manuel Pellegrini. His team set new marks for points and goals scored but the Merengues finished the season empty-handed.
Even with Cristiano Ronaldo at his best, they could not overtake Barcelona on the final stretch in the race for the league title. The "Chilean Engineer," as he is known, will now have to find a new job as Jose Mourinho is expected to waltz into the Santiago Bernabeu before the start of the new campaign.
Which leads me to Internazionale. They were the best team in Italy this season and were worthy champions. For the good of Italian football, I would have liked Roma to win, since it isn't healthy for one team to claim five straight titles.
However, the Nerazzuri were better, faster and stronger and deserve to celebrate another Scudetto. Diego Milito was simply outstanding in the last month of the season and it is inadmissible that he has not been selected by Diego Maradona to represent Argentina at the World Cup.
Inter's other top performers like Walter Samuel, Lucio and Wesley Sneijder will be there. They will go to South Africa as treble winners since I believe Inter will beat Bayern Munich in the Champions League final in Madrid.
As far as Jose Mourinho is concerned, he has proven once more that in the present day he is the best coach on the planet. Give him the resources, and he will give you success. Guaranteed. He now has collected 16 trophies in 10 years in management. Statistics like these do not lie.
One final word about England's FA Cup final. I grew up watching these games on television and always considered them to be a showpiece of the football season.
Having watched this last weekend's match between Chelsea and Portsmouth from afar once more, I became disillusioned with everything this game is supposed to represent.
There were empty seats, the fans were lethargic, and the pitch was embarrassingly poor. It didn't look like the home of football. It didn't even look like a field that should host a final of any sort.