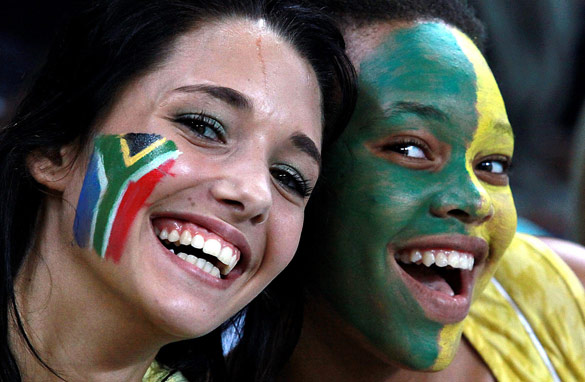 Two fans getting in the World Cup mood. (Getty Images)
The World Cup - the biggest carnival in global soccer - is about to kick off in Johannesburg; an event that will see the greatest players and the most powerful nations vie across the fields of Africa for the most coveted prize in the game.
The tournament, which was first played among 13 nations in 1930, has grown into a global behemoth that attracted a cumulative global television audience of 26 billion in 2006 and is expected to see 300,000 visitors travel to South Africa to witness the action in 2010 (figures from FIFA).
Few events have the ability to unite people the world over, but the collective interest generated by the drama of eleven men kicking a ball in pursuit of a golden trophy gets somewhere close.
Whether as a passionate fan or merely as an interested spectator, each edition of the World Cup captures the era, creates new legends and makes history in both a communal and personal way.
And it is these personal stories, from every corner of the globe, that we want to be part of our coverage - so could you contribute by becoming a CNN Super Fan?
We want you to send us video of how you are getting involved with World Cup fever - and the criteria for what makes a Super Fan is as wide as your imagination.
Are you a football-mad fan who will be following every game? If so, send us film that captures the atmosphere of where you will be watching the match.
If you struggle to contain your enthusiasm when your country scores a goal then we want to see the celebrations, help your nation emerge with the most passionate support over the course of the tournament.
Maybe you have strong opinions about a player or incident that you want to get off your chest? You may think Lionel Messi is the best player in the world, or that Ivory Coast will be the first African side to lift the cup or that France cheated their way into qualification. Whatever your take, CNN can be your forum for debate and outlet of your views.
It could be that you have some silky, ball-juggling skills to compliment the action from the international players on show. If so, capture your best moves and upload your video.
Even if it is to just sing and shout about your team, however you want to express your interest, we want your World Cup story on to be told on CNN.
If you would like to sign up as a Super Fan add your contact details to the comment box below. Your details will not be published. Alternatively, go to CNN.com/superfans and follow the instructions.