What does Fabio Capello's provisional England World Cup squad say about his mindset ahead of the finals in South Africa? Well, to me it says that us long-suffering England fans will be in for another summer of uncertainty.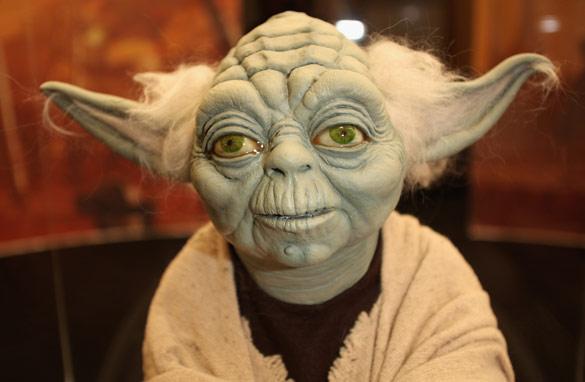 Can England coach Fabio Capello be as successful as Jedi master Yoda? (Getty Images).
Throughout his two-and-a-half-year reign we've been led to believe that Capello is this inscrutable Yoda-type figure, just a little bit smarter than the rest of us, who knows his own mind and is as impervious to the media as his predecessors were vulnerable. The Italian knows his best team, we assumed. He knows his best squad. He will not take anyone not playing regularly for their club, whether it be down to a loss of form or an injury.
Great, we thought, this guy is the real deal. He's got a handle on things like no England manager since the late, great Bobby Robson, who steered England to the brink of the final at Italia '90. But when Fabio announced his preliminary squad for South Africa, we began to scratch our heads.
In comes Jamie Carragher, who had to be talked out of retirement, and whose Liverpool side have had their worst season in seven years in the English Premier League and didn't come close to winning any other competition either.
Next up is Ledley King, who admittedly played a part in Tottenham's run to a superb fourth-place finish. But he  played only 19 of the 38 league games due to his chronic knee condition, which rarely allows him to play two games in quick succession. There are seven in quick succession at the World Cup, if you make it all the way to the final. Will he make it?
And while we're on the subject of the walking wounded, Rio Ferdinand has struggled with injury for most of the season for Manchester United, and played no more than a cameo role in their unsuccessful title run-in. Yet the skipper is in the squad, presumably in the hope that he'll be fit in time. Does Fabio remember a trio of former skippers by the name of Kevin Keegan, Bryan Robson and David Beckham? They went to World Cups feeling not quite right, and guess what, they played that way too.
We'll gloss over the call-up of Aston Villa's Stephen Warnock and Everton's Leighton Baines, because they wouldn't have seen the light of day as cover for left-back Ashley Cole if Wayne Bridge had not bailed in the wake of John Terry's affair with his ex-partner. But Scott Parker in midfield? A wholehearted competitor for sure, but didn't he have his best days at Charlton and Chelsea? And didn't his team, West Ham, just avoid relegation this season?
Up front, I'm glad to see Darren Bent's still in with a shout after a good season at Sunderland, but what happened to Capello's "no play, no way policy" when it comes to Emile Heskey, who spent large chunks of the season on the bench at Aston Villa. And what about Theo Walcott?  A non-factor when he was taken to the last World Cup as an unused bench-warmer in Germany, and a bystander for much of Arsenal's season due to injury.
I could go on, but you get the gist. Capello's selection doesn't smack of clarity and certainty - but of compromise, desperation and experimentation. Which is all well and good a year before before the finals, but not what you want to see with less than a month to go. But, as I said, Yoda-like he is, and right I hope he's got it.