Dynamite. Every great player needs a nickname, and this is the one I am picking for the formidable Chelsea and Ivory Coast striker Didier Drogba.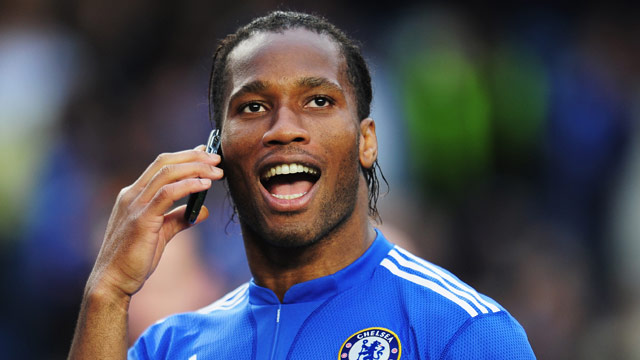 Drogba enjoys the atmosphere after his side Chelsea had clinched the Premier League title on Sunday.
He made the headlines for good and bad reasons after an explosive performance in Chelsea's 8-0 drubbing of Wigan Athletic during Sunday's season-finale in London.
Good, because his superb second-half hat-trick, which sealed his top-scorer status in the English Premier League, helped his side become champions for the first time since 2006. And bad, because his temper tantrum - which erupted after his request to take a penalty was rebuffed by his teammate Frank Lampard - showed his all-too-often criticized petulant manner.
Let's start with the latter. Many pundits have damned the reigning African footballer of the year for his childish attitude, so let me be the first to defend the fiery forward.
As a coach you would love most players to be like Drogba. Players who want to win and players who want to assume the responsibility of taking penalties, scoring goals and doing the best for themselves and for the team. The question here is did he think of himself ahead of the team?
I don't think so. If he were poor at taking penalties and seldom had that task, perhaps that argument could be made. However, considering he often takes spot kicks for club and country, and the Blues were already leading at Stamford Bridge, there was nothing wrong with his plea to be the man entrusted with the mission.
Should he have been so exuberant in his protest? Probably not, especially given that Carlo Ancelotti had ruled out anyone other than Lampard taking the spot kick if the occasion arose earlier in the week.
However, in the heat of the moment and because his desire to clinch the 'Golden Boot' ahead of England forward Wayne Rooney - who also had a record of 26 goals going into the final day - was so strong, his combustible emotions ignited.
An incendiary move which was, in my mind, understandable as uncertainty remained over how many more chances he would get in the match to score.
So let's talk about the goals he netted on Sunday. Once again, Drogba proved that on his day, he is the top striker in the world.
Better than Rooney, Fernando Torres, or any other. He may be 32-years-old, but he is in the form of his life and is difficult, if not impossible to stop.
Without him, Chelsea would certainly have failed in their bid to win the title. Not only because of the 29 goals he scored, but because of the impact he had on every game he played and the space he created for all his teammates to shine.
So what can we expect from the talismanic African at the first World Cup on his home continent? Ivory Coast coach Sven Goran Eriksson recently told me that he is the heart and soul of the Elephants' side and as team captain is crucial for the team's chances of making it past a tough opening group.
I expect him to score. I even see him getting a hat-trick against North Korea. I just hope he has a bad day at the office against my beloved Portugal.
Whatever happens, and however many goals he scores, there is one certainty; once again Didier "Dynamite" Drogba will be explosive.