I don't want to say ' I told you so" but late last year I confidently blogged Phil Mickelson would be the main man when it comes to 2010.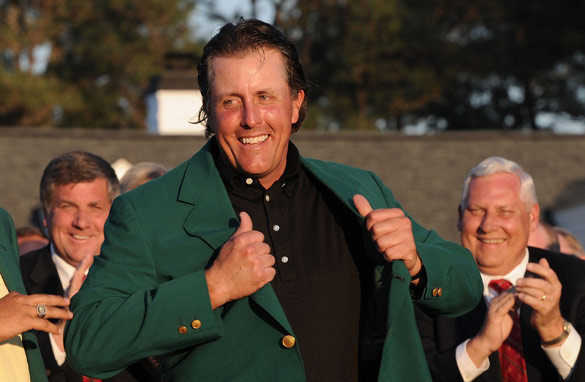 After his Masters victory, 2010 could be a memorable year for Phil Mickelson.
Feel free to check back! (
more posts from Patrick Snell
). My assertion was based on a new–found confidence around the greens and the fact this is wife Amy was showing good signs in her battle against cancer.
All the hype at last week's Masters predictably surrounded Tiger Woods and in my view that was just fine by Phil! As Woods struggled awkwardly and at times nervously in front of the world's media, "Lefty" was able to quietly go about his business with little fuss and to quite devastating effect by week's end!
With one major down and another three to go this year, I stand more than ever by my convictions.
As the personable Californian approaches his 40th birthday, I honestly feel he's about to embark on what we could all one day look back on as his golden years.
I sense the next three to four years will be ones of huge opportunity for Mickelson and more pertinently, I'm certain he does too.
Woods is far from being a spent force of course and while his time will certainly come again, there's no doubt in my view - for reasons well documented - he's making hard work of surpassing the record feats of the game's all-time leading player Jack Nicklaus.
There may well once have been a time when what Tiger did - or didn't do - was of concern to Phil. Those days are long gone.
Come next April, Woods will be seeking his first green jacket in six barren years while his Ryder Cup team-mate will be going all out for his fourth since 2004.
Quite simply, Phil now knows he can stare down his compatriot face to face and emerge top dog. Just look at what's happened the last three times they've both competed in the same field.
Mickelson blew Tiger away with ease in the final round at East Lake last year at the Tour Championship, romped to victory in China and was never seriously threatened by him at any point at Augusta.
The U.S. Open at Pebble Beach looms large on the horizon. In short, it's an event Mickelson is desperate to win.
He has the most unwanted of records when it comes to the season's second major with five runner-up finishes including last year at Bethpage but I really do feel the man with 38 PGA Tour successes to his name is primed to shatter that undesirable stat.
Woods fans will doubtless point to the fact their man was so dominant the last time the Open was played at Pebble Beach, when he won by 15 shots, but they should be reminded Phil is hardly a novice on that track having won on it no less than three times himself!
If "lefty" can take a first U.S. Open come June, may I be so bold as to ask what might the odds on a Mickel-slam be this season? On curent form, don't rule it out!