Come on. Admit it. When you saw Phil Mickelson embrace his cancer-suffering wife Amy after clinching a third Masters title, you had a tear in your eye didn't you? Or at least a lump in your throat, surely?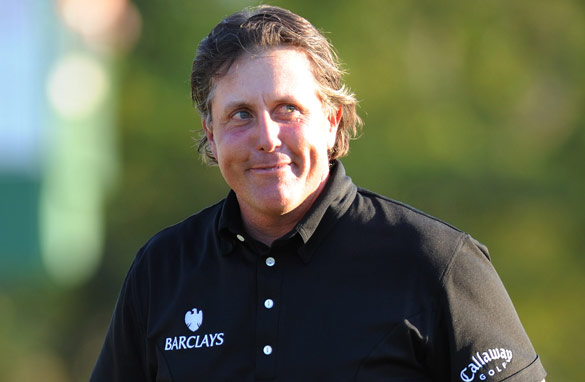 Phil Mickelson could not contain his emotions after he claimed his third Masters title.
After the endless stream of copy and airtime about Tiger Woods' off-course "distractions", here was a player who really had something other than golf to worry about.
Tiger's performance, in his first tournament for five months, was erratic and impressive but it didn't tell us anything new about him. We already knew he was a genius golfer. That's why he's the world number one.
But there is something even more compelling about the way Mickelson plays the game. Officially, his nickname is "Lefty," but there are less flattering alternatives that paint the Californian as shallow and arrogant.
I don't see that. I've only interviewed him once, many years ago, and I agree he's sure of himself. He knows he has a special talent for the game and he'll back himself against anyone, anytime, on any course.
Often in his career, he has fallen short of his own lofty expectations of himself. That's why he was the "best-player-without-a-major" for so long but Mickelson bounced back – like a dog refusing to give up his favorite ball.
During the final round at Augusta, Phil looked like a man possessed, spraying the ball everywhere, lashing at every shot; a swash-buckling cavalier wielding his clubs like weapons.
Yet, when you look at his scorecard you'll see he didn't drop a single shot – truly astonishing. And the commentators are right to highlight Phil's second to the par-5 13th. Down the years, this has been less a golf hole and more a graveyard for the hopes of prospective champions – their dreams drowned in Rae's creek.
His ball was on pine needles. He was facing a narrow gap between the trees and the water in front of the green. But Mickelson still went for it. He always does.
And this time, his sheer joy for the game of golf didn't hurt him. It rewarded him, with the joy of another major triumph. A joy that not only lifted his heart but also, for a short while, let the whole Mickelson family forget the other battles they are fighting.