As we head into the weekend The Masters has already lived up to its pre-tournament billing.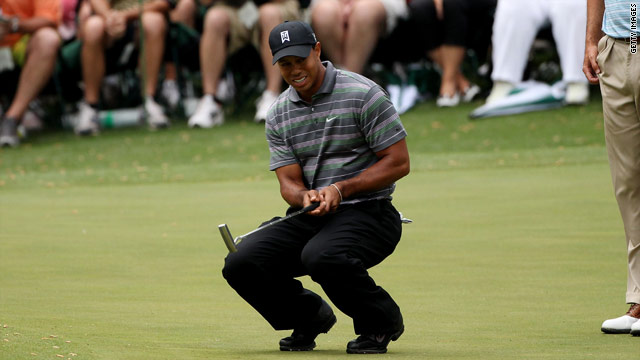 Tiger Woods could easily have shot a 64 at Augusta on Thursday.
It's my first time at Augusta and it feels like I am walking around a Hollywood movie set. The script that has been unfolding since Tiger's press conference belongs on the big screen.
On Thursday all eyes were on Tiger's much anticipated tee-off. The day ended with the world's number one shooting his lowest round on the opening day of The Masters. It was also the first time he nailed two eagles in a round at Augusta's famous course.
But even though the world's media were trained on Tiger's every move, this was far from a one-man show on what was a remarkable first day. Thirty-one players finished under par, four players aged over 50 remain in red figures and the unlikely figure of Fred Couples leads the way.
If you're wondering why Couples, who has won once here, jumped the field at the tender age of 50 you need to look at his performance on the Champions Tour, the tour for the over fifties.
He had three straight wins on his way to Augusta and he has been putting as if his life depended on it, and if you're putting well at Augusta then you're in the frame no matter how old you are.
What about Tiger? It has been vintage stuff. He was ragged in some areas but still managed to pull off minor miracles. His birdie on the 9th, after he hooked his second shot around the corner just to get to the green, left us awe struck.
He has his game face on again. It might be a new, contrite Tiger outside the ropes, but inside he's still the hungry competitor. I predicted in my previous blog he would win the Masters, and nothing I've seen has changed my mind. Had his putter been working Thursday he might even have shot a 64.
But today is another day. This roller coaster ride is bound to take more sharp turns. The tournament committee moved the tee boxes forward and made the pin positions a lot easier on day one due to expected severe weather.
It didn't come and the course was left to the mercy of the players. Friday will see Augusta bite back, and bite back hard.