London, England - What a week in the Champions League. Twelve goals in four matches, 10 of them scored in Barcelona and Manchester. While the brilliance of Leo Messi and Arjen Robben must be praised, it is my opinion that neither of them will lift the European Cup in Madrid this year. That honour will go to Internazionale.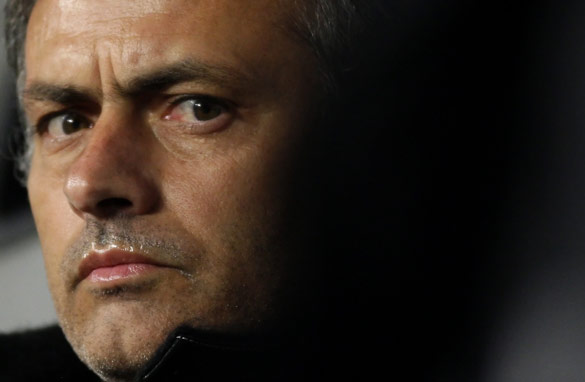 Jose Mourinho: Can he upset Barca's plans for European Champions League glory?
I expect you want me to justify my pick, and I will gladly do so.
Right now, Barcelona are the bookies favorite. Most fans around Europe, and indeed around the world, also expect the Spanish giants to become the first team to defend the Champions League title since the format of the competition changed back in 1992.
However, although I love watching Barcelona play, and believe they are the best footballing side on the planet, they will fall at the feet of Inter Milan in the semi-finals. Jose Mourinho will be a big reason for their defeat.
Recently, before Inter played the second leg of their tie with Chelsea, the Inter manager admitted to watching the first leg match seven times. He analyzed and dissected the game, coming up with a masterplan that worked marvellously at Stamford Bridge. The Nerazzuri departed London with a famous victory.
I now expect my compatriot to dig into the archives and watch two specific games a few times over: both legs of last season's semi-final between Barcelona and Chelsea. The Blues did what few teams have managed to do over the last two years, and that is to contain Pep Guardiola's mean scoring machine.
They seemed to plug all the gaps and frustrate their opponents over both matches. Of course, they were eliminated by a last gasp goal from Andres Iniesta, but for large parts of that tie, they were in control.
So look for Mourinho to design a plan to contain Messi and company. He's got plenty of physical players in midfield like Esteban Cambiasso, Thiago Motta and Dejan Stankovic and that will help his team's cause.
I don't expect a flurry of goals over the two legs, maybe only three or four - but when all is said and done, Inter will be on top.
After that, they will go on to beat Bayern Munich in the final in Madrid and win the European Cup for the first time since 1965.