Once the hype over Tiger's return dies down, we can get down to the business of golf.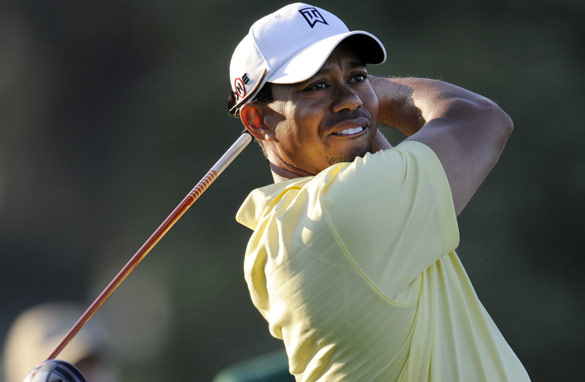 Tiger has exorcised many demons in the past few months.
And with that in mind I think he'll win Sunday to make The Masters this year the most extraordinary sporting event ever.
I love my race horses, and I liken the world number one to a thoroughbred when it comes to competing in major championships.  He is to golf what Phar Lap was to racing.
Ever since he set records in 1997 (just a year after he turned pro) for not only the biggest winning margin in Masters history (12 strokes) and the youngest winner ever at age 21, he has been consumed by winning the big titles.
Once he receives the overwhelming support of the Augusta crowd as he heads to the first tee - and it will be the most hair-raising welcome to a sportsman in history - he will be inspired to want this title more than anything.
We will see his first shot telecast around the world but after that, as per Augusta National's rules, the live broadcast will revert back to action.
An absurd decision on the club's behalf in the face of the most eagerly anticipated comeback in sporting history. It's his second shot I will be watching a lot more closely to see if he can keep his emotions in check with so much support as he walks the first fairway.  I will be on course and following it all the way.
Here's some more to think about in the debate over his potential to win: Four green jackets (two behind Jack Nicklaus); the lowest tournament score record in every major; three times a winner of every major alongside Jack, and just four behind the Golden Bears grand total of 18.
All by the age of 34, with knee injuries and a private life meltdown.
He has exorcised many demons in the past few months and his mind will be a lot freer when he heads to the tee on Thursday. I believe just as free as it was when he first teed up in The Masters as a pro in '97 before the rot set in.
And if you think Tiger might be a little rusty heading into this event, cast your mind back to 2008.
Doctors told him to rest for six weeks and not compete in the U.S. Open at  Torrey Pines.  He went ahead anyway and competed over five days, eventually winning in a 19-hole play-off on one leg over Rocco Mediate on the Monday.
He was then forced to take eight months off after surgery. It was the greatest example of a golfer pushing through the pain barrier.
He might not have played a competitive round of golf for more than five months but he is physically fit and his ability to put mind over matter is astonishing.  I have lost count the amount of times he has won playing "ugly" golf.
And I have watched numerous documentaries on Tiger where during interviews he has described how he just loves the pressure of being the man everyone wants to beat.
He says he wants to be the player under the most pressure, it's what drives him. Cue this year's Masters and it's made for him.
Tiger is really only in control inside the ropes. I spoke with Butch Harmon about the subject not long ago and Butch knows a thing or two about Tiger.
He described how Tiger flicks the switch as he heads to the first tee and nothing else matters, not even a meltdown in his personal life will stand in the way of his desire to win a major.
Just look at how quickly he has returned from his February 19 statement of "I will return to golf someday, I just don't know what day that will be."
He always knew he was coming back for The Masters. Who was he trying to kid?