The injury to England and Manchester United striker Wayne Rooney, sustained in his club's first leg European Champions League defeat to Bayern Munich on Tuesday, has caused panic attacks and palpitations to football fans the world over.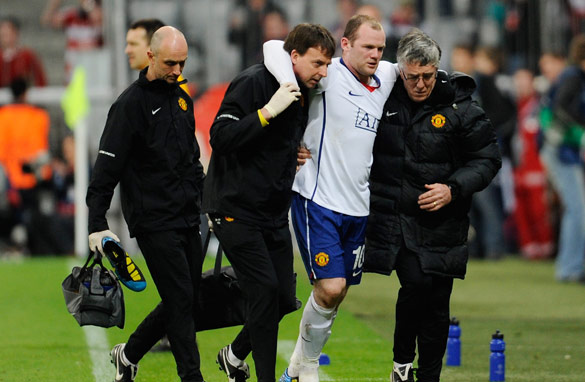 Wayne Rooney limps out of Manchester United's clash with Bayern Munich.
There once was a time when it was only fanatics of the game who would react with hysteria to such seemingly frivolous news (it is just a twisted joint after all, there were no fatalities) but in today's globalized economy - where football is big business and the soccer soap opera captivates the interest of millions around the world - such an event becomes a major deal.
Rooney not playing is a big problem to a number of parties with vested interests. Firstly, the Liverpool-born hit-man has been in prolific form this season - his goal against Bayern was his 34th of the current campaign - a feat that has helped his club side lead the English Premier League, capture a domestic cup and progress to the latter stages of the Champions League.
Alex Ferguson's men play Chelsea on Saturday in a crucial title decider that Rooney will almost certainly watch from the sidelines, he also may struggle to be fit for Bayern's visit to Old Trafford where United need to overturn a 2-1 deficit to stay in the European competition. United fans, consequently, must be worried.
His performances for England helped his nation qualify in some style for the 2010 World Cup in South Africa which kicks off in June; he is the talisman of the squad, Fabio Capello's best player. For England fans, the sight of their most talented footballer getting injured before a major tournament is familiar ground (see David Beckham circa 2002 and Rooney in 2006), hence doom and gloom is already descending on a country well-versed in big-tournament disappointment.
The typically hyped-up British press carried headlines including "Pray" (The Sun), "In Rooins" (The Daily Mirror), and "Roo in Crock Shock Scare" (The Daily Star) - which begs the questions what will the headline writers do during the World Cup without such ripe material to work from?
The 24-year-old must wait on the outcome of a scan to understand how severe the twisted right ankle, which forced him to limp out of the game, is and how long it will keep him out of action. You can bet that domestic broadcasters will report on every tiny update of Rooney's recovery, such is the perceived interest from a captive audience.
Sponsors too will be sweating on the scan results. Rooney represents Coca-Cola and Nike to name but two, and millions of dollars are riding on the exposure Rooney would have given his sponsors' branding and products in South Africa.
Football may still be a team game on the pitch but Rooney's injury and the global reaction to it is just the latest example of how some elite stars of soccer have a gravity all of their own. Let's hope that Crisitano Ronaldo and Lionel Messi avoid a similar fate.