To say that Argentina's Lionel Messi has been in scintillating form of late for club side Barcelona is an understatement up there with U.S. health care being a tricky issue.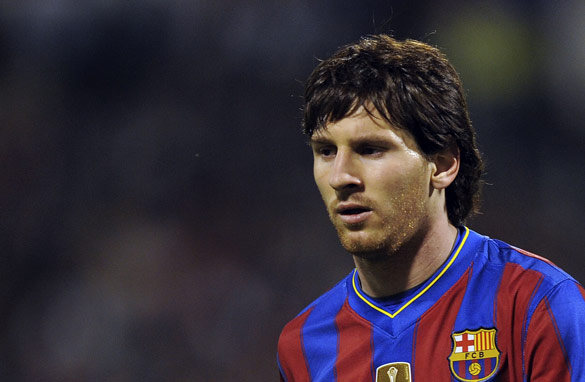 Can Messi match Maradona's feats at the World Cup come June?
His coach Pep Guardiola has run out of superlatives to describe him, while club president Joan Laporta claims he is the greatest to have ever played soccer. A bold statement maybe, but recent statistics show why those who have been lucky enough to watch the diminutive destroyer of defenses in Spain have been seduced into lavishing praise on the attacker.
The reigning World Player of the Year's goal-scoring form this season has been staggering. The 22-year-old has already beaten his total from last year of 23 goals - a season in which his team completed an unprecedented capture of three trophies (the domestic title, domestic cup and the European Champions League) - with 11 games left of the campaign.
The completion of his third hat-trick of the season against Real Zaragoza on Sunday, his second in as many league matches, takes Messi's tally to 11 goals from his last five appearances and means he is currently averaging more than a goal a game.
However, it is not just the number of goals he has scored but the manner in which he has helped his team to victory. In his last three appearances Messi has bamboozled and obliterated his opponents with a poetic mix of pace, poise and panache reminiscent of Diego Maradona in his prime.
Impressive, but how do we know if he is the greatest player ever? It is far easier to tell once the career of a player is over rather while it is still in full swing, so there is distance enough from the achievements for some kind of perspective and analysis. To call it now is tough; much depends on Argentina's performance at the forthcoming World Cup and Messi's role in their success.
There have been many revered players of the game - George Best, Ryan Giggs, George Weah, Eric Cantona to mention but a few - but to be placed above Maradona and Pele in the pantheon of greats, Messi must surely match their heroics on the biggest stage of all.
What set these two South American soccer stars apart from the myriad of contenders was how they focused their awesome talents to deliver when the pressure was at its most intense and how they etched their name in history by helping their nations become world champions through creative and compelling football (Maradona with Argentina in 1986 and Brazil's Pele in 1958, 1962 and 1970).
Messi certainly has the ability to reach these heights, but it is the delivery of such success that would seal his greatness.