What a guy! Novak Djokovic may be the men's world number two tennis player, but he certainly isn't letting success, fame and fortune go to his head.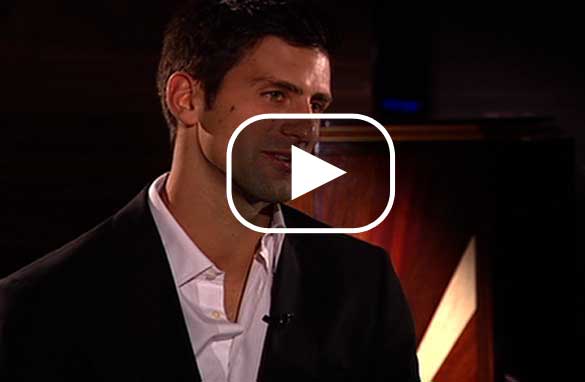 Open Court's Pedro Pinto catches up with world number two Novak Djokovic.
I had the pleasure of spending some quality time with Novak in his home town of Belgrade - as I interviewed him for CNN's brand new tennis program Open Court - and he was a great host. Calm, relaxed, pleasant. A real gentleman, and mature beyond his tender age of 22.
We met at a tennis complex built by his family in the Serbian capital and sat down for about an hour to talk about his past, present and future. What impressed me the most about the man they call "Nole" was the way he described the war and the NATO bombings of Belgrade.
I could tell he felt a lot of pain about what happened to his city, but it was also clear to see that it never derailed him or his dream to become a professional tennis player. He had a goal, and there is no doubt that he always believed he could reach it. No matter what or who got in his way. He kept on practicing and playing, even when the explosions could be heard outside.
Novak also showed me the jovial side of his character. The Serbian star is known for the impersonations he does of his fellow professionals, and although he didn't have time to give me a glimpse of them, he did joke around with me when we talked about social networking. When I asked him if he would accept me as a friend on Facebook, he said it depended on how many girlfriends I had! Funny, because no matter how many I have, there is no question he has many more …
Djokovic is leading an all-star Open Courtcast for the inaugural broadcast. Former world number four Greg Rusedski looks at the history of the game with a visit to a real tennis court at a royal palace in London, while Caroline Wozniacki previews her upcoming video blogs. Find out how the players get power in their shots as the secret of stringing rackets is uncovered at the Indian Wells tournament in California.
Tune in too at 1230 GMT Thursday 18 March to find out which tennis great will be unveiled as the new anchor of the program!