David Beckham's international career was never going to just peter out. That's not the way the man does things, as drama and intrigue has followed him every step of the way throughout his career.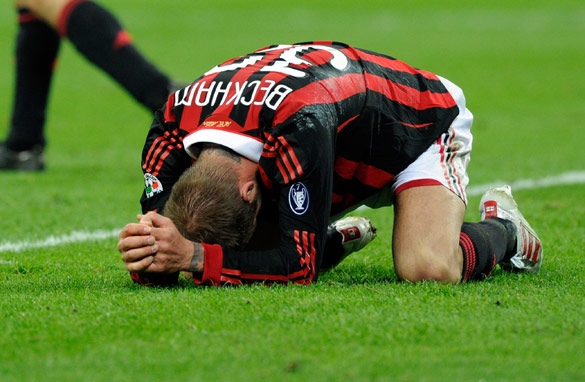 Beckham in pain after sustaining an injury playing for AC Milan.
So, at the risk of this sounding like an obituary, if, as feared, this is the end of the line for his World Cup and international career, then it's only fitting that he went out on his shield, playing the game and fighting for his place in Fabio Capello's England squad.
Have your say on the World Cup. Click here to become a CNN Super Fan.
Because, make no mistake, Beckham was by no means a certainty to go to South Africa even before the injury - a fact he was well aware of himself. Capello insists that all his players are competing at the highest level in the lead-up to the finals in order to be eligible for selection. And Beckham, while having made the loan move to Milan from the LA Galaxy for the express purpose of keeping himself in World Cup contention, had spent much of his time on the bench for the Rossonieri, coming on to play cameo roles, though still considered by Milan boss, Leonardo, an "important part of the squad."
So, on paper, there were others in front of him in terms of being selected to play on the right side of England's midfield. And the injury has, in a way, let Capello off the hook. As now he'll no longer have to decide whether Beckham's effectiveness as a talisman should override his impact as a player to earn him selection.
That said, it would have been a nice dilemma to have, as there's no doubt that Beckham, despite his mild-mannered demeanor, does have the ability to inspire. Not by shouting and cajoling his team-mates, but by his mere presence. Not to get too metaphysical about all this, but, having met and interviewed him many times, the guy does have a positive aura about him. And, with David in the squad to provide a quiet word; that steely-eyed look he often adopts in pressure situations; or, of course, that killer cross or free-kick of which he's still capable, England would have been a stronger contender in South Africa.
Unfortunately, it's probable that England will have to do without all of the above, as the Achilles tendon injury Beckham sustained is not as easily overcome as the broken metatarsal he suffered in the lead up to the 2002 World Cup, which he was able to shake off in time to play in the finals.
Of course, being David, he will fight to the last to be fit for selection. But, with the provisional 28-man England squad set to be announced on May 16, and the final 23 to be revealed on June 1, all the positive thinking in the world is unlikely to get him on the plane. There's just not enough healing time, and too great a risk for Capello to include him half-fit and hopeful.
So, his international career will likely end, aged 35 in May, with 115 caps that in no way tell the story of what David Beckham meant to the England football team. In his heyday, the man was immense, and even in decline he still had something intangible to offer. So Becks, you will be missed.