Imagine you have just bought the car of your dreams. A convertible, for example. It's fast, stylish, classy. It has all the extras, all the bells and whistles if you will. You have spent your savings on this car because you want to take it on the road trip of a lifetime.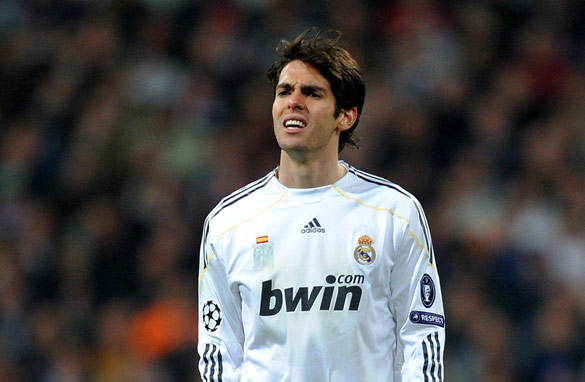 Kaka looks glum after French side Lyon dump Real Madrid out of the European Champions League.
That one road trip you always wanted to go on. Now imagine that halfway through the trip, the car breaks down. Not only does it break down, but the engine blows and the wheels fall off. Your road trip is over; the headache of crushed dreams and major repairs lie ahead.
This may give you a small idea of how Florentino Perez feels now. The Real Madrid president spent over $340 million on new players in the summer and he did it to win the Champions League this season. He wanted to win the European Cup for the 10th time in the club's history, and he wanted to do it at home, at the Santiago Bernabeu - the venue for the final. That was his dream.
Well, as you know, that's not going to happen, and Mr. Perez may be feeling a little silly. For this road trip, he may have been better equipped with a rugged 4×4 SUV, not a convertible. Yes, Real Madrid is flashy, fast and classy. However, it is not robust and it is certainly not reliable.
History may indeed repeat itself. Once again, Perez's obsession with signing star names threatens to end in failure. The first time he was president, he invested hundreds of millions of dollars and only managed to win the Champions League once. That's it. Despite bringing in Ronaldo, David Beckham, Michael Owen and many others, the only title he captured was in 2002. Yes, that team had a couple of "Galacticos" in Zinedine Zidane and Luis Figo, but it also had a solid back line and a work horse called Claude Makelele.
Right now the Real Madrid team is unbalanced. The forward line is phenomenal. Cristiano Ronaldo is having a fantastic season and Gonzalo Higuain is in stellar form. But that's it. Kaka has been forced to play out of position, on the left and has been ineffective. Xabi Alonso has become uncertain about his role, torn between being a playmaker or a ball winner… and the defence is not strong enough. Pepe may be injured right now, but even if he were fit, there is not enough quality and depth, and there is not a leader who can boss the line. Real desperately need someone in the mould of Nemanja Vidic, John Terry or Carles Puyol.
So what now? Time to panic? Not really. What could happen is that although Real will still fight for the league title, Florentino Perez could start planning for next season already, initiating a search for a manager to replace Manuel Pellegrini. Who is he going to call? Certainly Jose Mourinho will be at the top of his list.
Surely if your car has broken down, you want the best mechanic in town.