Just what is it about David Beckham that has football fans the world over worshipping him?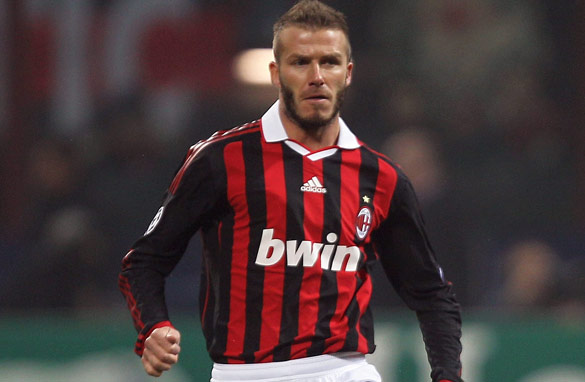 David Beckham's commitment and obvious love of playing has ensured he remains a worldwide football icon.
From Europe to the United States, Asia to Africa, Manchester to Milan via Madrid, the England midfielder is a worldwide football icon, claiming a status that appears to be out of sync with his effectiveness on the field.
It has not always been that way. Castigated by fans and English media alike following his sending-off against Argentina in the 1998 World Cup finals, for a while Beckham was public enemy number one in his home country.
Have your say on the World Cup. Click here to become a CNN Super Fan.
He was seen as a good-looking Flash Harry, too preoccupied with fashion, hairstyles and his pop-star wife Victoria.
Beckham always attracted headlines in his younger days. Some good - for his superb free-kicks and wholehearted performances on the pitch - and some indifferent, for a sometimes petulant attitude.
But while hard-line club manager Alex Ferguson grew tired of the media circus that followed his number "7," resulting in his eventual departure from Manchester United to Spain in 2003, for England Beckham could do no wrong.
His dismissal against Argentina, which prompted such vitriol and hate, gradually became nothing but a distant memory as Beckham began to turn jeers into cheers with some dynamic performances while wearing the "Three Lions" shirt.
This culminated in perhaps the finest moment of his career, when a pumped-up, super-charged Beckham dragged a struggling England team up by its bootlaces to secure a last-gasp draw over Greece and ensure qualification for the 2002 World Cup.
Without the intervention of Beckham's stunning 93rd-minute free-kick, England were staring at World Cup humiliation. The fact that the match was being played at Old Trafford only added to the theatre.
And that was it... the nation was hooked, a hero was born. In fact, in such high regard is Beckham held that he is now viewed by the English as a national treasure, sporting royalty, a very public figurehead for England's World Cup bid of 2018 ... which, with delicious irony, falls exactly 20 years from the date a perceived arrogant mop-haired young pup kicked out at Diego Simeone to get sent off in St Etienne.
Supporters are not stupid. They can see when a player is trying his hardest, putting in that extra shift, working tirelessly for the cause and Beckham has done this throughout his career.
At Real Madrid he fitted in perfectly with the "Galactico" era. Although the club were not successful on the pitch, Beckham was adored by the Los Meringues faithful for his all action style and dead-ball expertise.
The same at the San Siro, where his appearances from the substitutes bench still create a murmur from the Milan "Tifosi."
And although Beckham's initial spell with the LA Galaxy did not get off to a perfect start, he won those fans over too, helping the club reach the MLS final. Beckham's popularity is unique because it straddles different time zones for different reasons.
In England, it is for his whole hearted performances for the national team, which has seen him win more caps than any other outfield player. In Italy and Spain, for his displays and attitude with two of the biggest club sides in the world.
And in south-east Asia, where he adorns many teenage girl's bedroom wall, it could be argued that his model good looks have propelled him to god-like status.
Rare is a man who has a fan base throughout the world that envelops young and old, male and female, black and white... but David Beckham has it. Hard work, charm, good looks, politeness that help make the both man and the persona.
But, you know what, giving 100 percent every time you step out onto the field of play is the real key.
As I said earlier... fans aren't stupid.