If Landon Donovan is the key to the USA having even a half decent run in the upcoming World Cup isn't it in the interests of every member of the American soccer fraternity to have him playing at the highest level in the lead up to the tournament? You'd think so wouldn't you? But, sadly for the USA the Los Angeles Galaxy, and more specifically Galaxy head-coach Bruce Arena, think otherwise, having moved to deny Everton's request to extend his loan spell in England for the remainder of the Premier League season.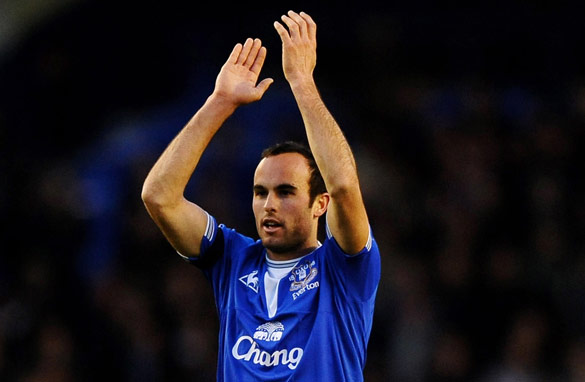 Landon Donovan celebrates scoring Everton's fourth goal in a 5-1 rout of Premier League opponents Hull. The American became a firm favorite with the fans during his short stay.
Not that Arena is acting alone in demanding that Donovan returns on March 15 as scheduled, as nothing happens at the Galaxy without the approval of the club's chief executive, Tim Leiweke. But Arena of all people, having been the boss of Team USA from 1998 until 2006, should know the chance for Donovan to stay in the zone as an integral part of the Everton squad is exactly what the USA needs to keep their captain in peak of form for South Africa.
Footballers thrive on big matches, because big matches demand the best of them mentally and physically. And if they can get the momentum going, as Donovan has certainly done during his 10-week stay at Everton, their performances usually improve exponentially. The fact is you can't replicate the pressure and atmosphere of a big match if the game doesn't fall into that category; and when compared to the 11-games he'd play for Everton in the lead-up to the World Cup, the 11 games he'd play for the Galaxy just can't compete in intensity.
Have your say on the World Cup. Click here to become a CNN Super Fan.
Obviously, he's made a commitment to the Galaxy, having signed a four-year contract extension just last December. But as his Galaxy teammate, David Beckham, realized when he sought to extend his first loan move to AC Milan, playing with the big boys can be very seductive. Beckham, of course, successfully fought to stay with Milan, and indeed won the right to return this year. Why? Because Fabio Capello said he had to be competing regularly at the top level to be eligible for the England World Cup squad. Doesn't that send a message to the USA? If Bob Bradley, the national team boss, wants Landon at his best in South Africa, he has to arrive on a high. I'd suggest that he's more chance of doing that coming from the Premier League than he does from the MLS. So, is it too much to ask the Galaxy to make the sacrifice?