Has Russian president, Dmitry Medvedev, crossed the line with his call for some members of the Russian Olympic hierarchy to resign in the wake of Russia's poor performance at the Winter Games?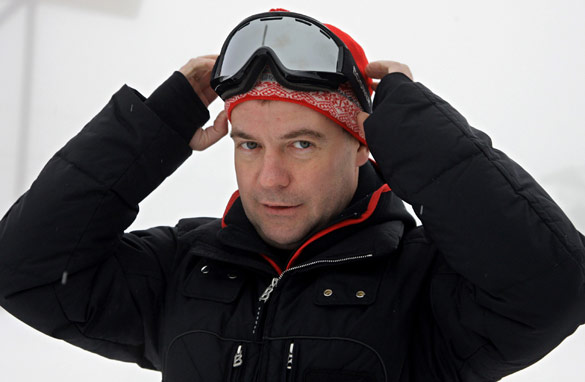 Russian president Dmitry Medvedev near the Black Sea resort of Sochi, where the 2014 Winter Olympics will be held. (AFP/Getty Images)
I'd have to say no. While government interference in sporting affairs is frowned upon or outlawed altogether, I feel that Medvedev, who's the representative of the Russian people after all, is only saying what many of his countrymen are thinking.
Russia has continued its steady Olympic decline by posting its worst ever tally at a Winter Olympic Games with just 15 medals, only three of which were gold. Medvedev is naturally outraged by the sub-par performance and clearly believes in accountability.
With the Russian city of Sochi set to host the next Winter Games in 2014, I would have thought a pre-emptive strike by Medvedev is perfectly justified in order to arrest the slide and prevent a repeat showing in four years time, which would be infinitely more embarrassing on home soil.
What's more, he's been constructive, suggesting that the emphasis is no longer placed on the wants and needs of the men in gray suits in the upper echelons of Russian sport but on the young guns in tracksuits, that is to say the athletes who ultimately make the sacrifices and bring home the glory.
Such re-prioritizing is nothing new among sporting nations. Indeed, government interest in sport is often welcomed, because it usually carries with it some funding.
Of course, no one wants political involvement to extend to the level it did in Iraq for example, where Uday Hussein dictated sporting policy with a brutal fist of iron. However, that was government meddling at its most extreme, and there's a lot of ground between dictatorship and what Medvedev is suggesting, which could be beneficial to all concerned.
So why the negative reaction to Medvedev's comments? Well it's obviously because his words invoke memories of the Soviet Union when Soviet sport was rife with corruption and was used first and foremost as a vehicle for political propaganda.
Now though, times have changed. While he acknowledged that Russian sport has lost something since the old Soviet days, I think some are too ready to read something sinister into that.
To my mind, he simply said, "We were good, now we're not, let's do something about it." And, at the risk of sounding naïve, I can't, as yet, see anything wrong with that. But perhaps you can tell me different.