It's always hard to be objective when you have "worked" an Olympics - lived and breathed every day of it, on the ground, from the inside - but I believe this was a great Winter Games.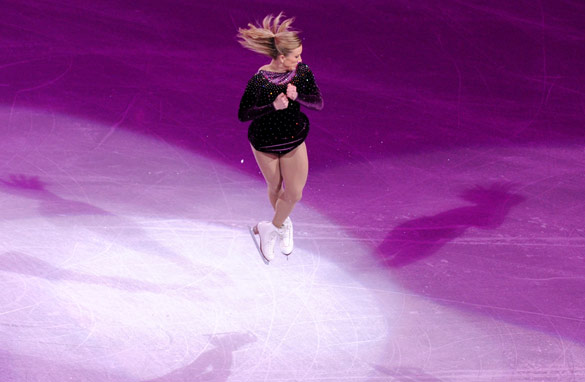 Canadian figure skater Joannie Rochette overcame the death of her mother to take the bronze medal (Getty Images).
The fact that Vancouver 2010 got off to such a difficult start actually worked in its favor. After days of rain, controversy and tragedy the mood slowly improved - and felt all the more satisfying for the turnaround.
Why did it change for the better? Well, to manipulate that overused political slogan: "It's the sport stupid!"
Yes, the ever-increasing commercialization of the Olympics is an irritation and, yes, we in the media can be guilty of exaggerating both successes and failures.
However, the Games are still inspirational, and when you peel back the layers you're left with the individual stories of courage, determination and excellence which make sport, generally, and the Olympics, in particular, so compelling.
In case you missed them, here are my favorites:
Petra Majdic won a bronze medal after skiing more than five kilometers cross country with broken ribs and a punctured lung. She had injured herself during a fall in training, but refused to take a pain killing injection before the race because it would hinder her movement and she was desperate to win Slovenia's first medal in the event.
Canadian figure skater Joannie Rochette somehow found the focus to claim a bronze medal just days after her mother died in Vancouver General Hospital following a heart attack. Therese Rochette had come to the city to watch her daughter compete. Joannie, still stunned by the sudden loss of her mum, earned an emotional place on the podium.
He's broke, a recovering alcoholic and has tried to commit suicide on more than one occasion, but American freestyle skier Jeret "Speedy" Peterson conquered all of his personal demons to take the silver medal in the aerials competition.
Kwame Nkrumah-Acheampong, Ghana's "Snow Leopard," put a smile on everyone's face. With echoes of Jamaica's bobsled team and ski-jumper Eddie "the Eagle" Edwards, the former indoor ski center worker rightfully claimed his place among the Winter Olympians here - and successfully negotiated two runs in the men's slalom.
There were more than two-and-a-half-thousand athletes at these Vancouver Games and there are many other stories, not to mention one of the most exciting hockey matches of all time. Before I came to Canada for the first time I said I didn't "get" (ice) hockey. I do now.
I also got the experience of a lifetime - not a cliché, a fact. Every Olympics is unique and inspirational, and this one has been no exception.