If you watched Sunday's closing ceremony of the just concluded Olympic Winter Games, you saw a mix of humor and humility. Canadians, known for poking fun at themselves, did plenty of it during the two-hour show from BC Place in downtown Vancouver. From actor and commercial pitchman William Shatner rising from the center of the stage to proclaim, in his own special way, that he's proud to be Canadian to the huge floating moose that circled the arena from high above, the closing ceremony had it all.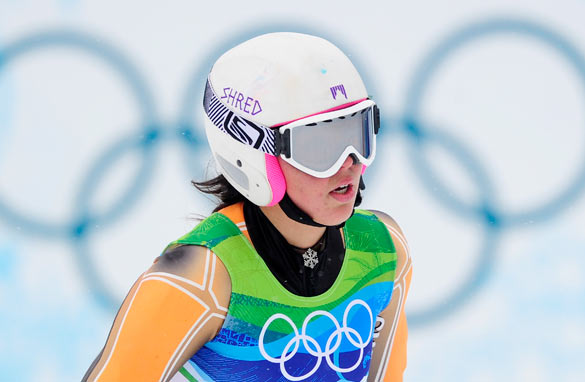 Noelle Barahona on the snowy slopes of Whistler near Vancouver. (AFP/Getty Images)
Amid all the joyous mayhem that ensued in the wake of the terrific 17-day sporting festival, there was one Olympian taking part in the Vancouver Games finale who could be excused if her mind was elsewhere.
Chilean alpine skier Noelle Barahona almost missed the ceremony. If it wasn't for the fact that she couldn't get a flight back to her homeland earlier in the weekend, Barahona would have already been back on South American soil.
While Barahona and the small Chilean delegation prepared to close out the final weekend of the games, a deadly earthquake shook their homeland to its very core. The news spread north and the rush to the airport was on. When Barahona learned that family members, many of whom accompanied the skier to Vancouver, and friends in her native Santiago were fine, Noelle decided to take part in the closing extravaganza.
Barahona was the only Chilean athlete to walk into BC Place with her fellow Olympians. Chile's two other athletes, both alpine skiers, had already left Vancouver as they had previously planned.
The night gave Barahona a chance to catch-up with and say goodbye to the many friends that she made during her stay in the athletes village. It allowed the skier to reflect on her Olympic experience. It also, for a few short hours, gave the Chilean a chance to enjoy her remaining hours in Canada before making the trip south and into the unknown.
Life for Noelle Barahona was surreal, on many levels, here at the Vancouver Winter Olympics. Returning to life in an earthquake ravaged country will likely be the same.