Tiger Woods fever is running high once again after the world number one's agent confirmed the golfer would speak publicly on Friday, for the first time since his "transgressions" and self-imposed exile from the game.
Obviously, we want him to return as the same great golfer he was when he left. And, once he's shaken off the rust and weathered the media storm, there's no reason why the post-scandal Tiger should play any differently from the pre-scandal Tiger when it comes to winning golf tournaments. But, more importantly, what do we want to see from Tiger the man?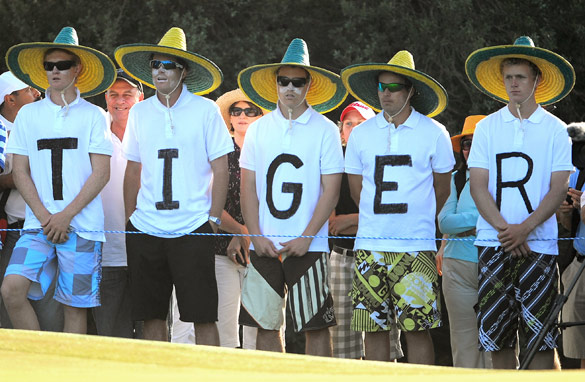 Fans all over the world want to see Tiger playing golf again but what he does first is a bone of contention.
Veteran American golfer, Tom Watson, would surely applaud the planned mea culpa interview, after advising Woods to do as much in recent interviews. The purpose being to show a contrite, changed man with a healthy dose of humility.
South African golfer, Retief Goosen, is among those who believe Tiger owes the sport an apology for the embarrassment he caused. While fellow player, Jesper Parnevik, who introduced Tiger to his future wife, Elin, also favors the sackcloth and ashes approach. Whether both will be satisfied with Friday's events remains to be seen.
Veteran golfer, Nick Faldo - who is no stranger to marital controversy himself - said that Tiger's best course of action is to say very little and simply focus on playing golf. The Englishman reasoning that the game will be his salvation. It seems it is not just Colin Montgomerie who is shunning the advice of the former European Ryder Cup captain.
As for the media? Well, regardless of where the outlet stands on the tabloid to broadsheet continuum, the demand will be for public hari kiri, followed by some genuine evidence of remorse, during which the story can stay hot on the back of a load of psycho babble and analysis, ultimately leading to a glorious resurrection in which Tiger, with Elin on his arm, comes full circle as a husband, father, and walking talking life lesson, because everyone loves a happy ending.
What do I want from Tiger? Well, I don't want an apology, as I'm not his wife, his kids, his friends, his family, or any of the sponsors whose money he took and then let down. I don't want the mea culpa speech either. He has already confessed, and his actions in hiding speak louder than words. I know as much as I need to know about what he did, and why he did it seems patently obvious. Absolute power corrupts absolutely. What I do want though is for Tiger to start being real, whatever he says and whatever he does. Because replacing one façade with another would do nobody any good at all.