America's history-making performance at the Winter Olympics on Wednesday summed up why the country has a reputation for winning, and why no other nation should try to copy them – especially the hosts here in Canada.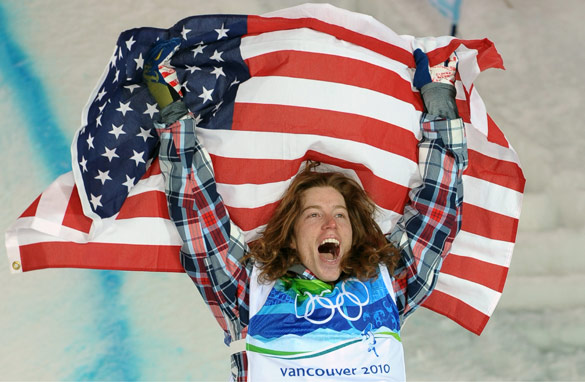 Shaun White's gold on the half pipe was part of an American medal rush Wednesday (Adrian Dennis/AFP/Getty Images).
Never before has the United States won so many medals on a single day of Winter Games competition – and four of the six athletes knew exactly what it takes to finish on top of an Olympic podium.
On the one hand, you could argue that this makes it easier for them to win again. However, I would say more people fail to carry on winning compared to those who are able to repeat significant triumphs.
The mark of a true sporting champion is someone who continues to rack up momentous victories despite the inexorable and burdensome rise of expectation.
And the Olympics is one of the harshest competitive spotlights of all. You have athletes from sports that are largely ignored for four years and who are then asked to perform in front of the world's gaze.
The not so subtle message is: "Don't worry, it's only you and your entire country's pride at stake."
Which brings us to the hosts of these Games. This is my first visit to Canada and, while I wouldn't presume to take Vancouver as representative of the whole country, I've enjoyed what I've seen. The locals have been friendly, the city feels homely and the surrounding landscape is spectacular.
Nearly all Canadians I have spoken to seem to be as self-deprecating as the British can be. For both countries, I would suggest there is an unwritten rule that the Americans can confidently strut as much as they like but we just don't approach our sport like that.
However, the Canadians have approached these Olympic Games like that. There are television adverts banging the patriotic drum, hype surrounds every home medal hope and there is wall-to-wall maple-leaf mania.
Now, I'm not pretending for a second that my country – the UK – won't do exactly the same thing when London hosts the summer games in 2012. But it won't make it any less of a mistake.
There's a fine line between wallowing in the glory of being a host nation, whipping up nationalistic fervour for the sake of making the event a commercial success and sabotaging your own athletes chances of success.
Would Canada have won more medals by now if they hadn't tried so hard? Or do we have to admit the Americans are just born winners? After all, Lindsay Vonn, Shaun White and Shani Davis hit the golden target, despite everyone breathing down their necks.