A world away from the Winter Olympics, golf's rumor-mill has been in overdrive in the course of the last few days, with the main thrust of speculation centering on whether Tiger Woods was poised to return to the game he once dominated a lot sooner than many had predicted.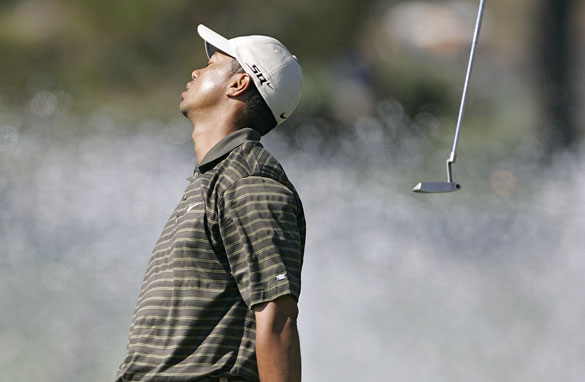 Tiger Woods tosses his putter in frustration having missed a putt at La Costa Resort in California, 2006.
At one point it looked as though the world's top player might end his self-imposed exile from the game as early as this month at the World Golf Championships' Arizona match play event in the United States. This would have been fitting, as it is the same venue he used to make his comeback last year after knee surgery.
That has now been ruled out, but for me a return to the game so soon after taking what Woods himself called an "indefinite break" from the sport would be a great surprise. After all, Tiger normally misses a good chunk of the early part of the year anyway, so any return to golf in February would somewhat lessen the impact of his hiatus.
Anyway, that's for Woods to reflect on. What I want to know is what kind of a person and golfer we will see when he does finally make his latest comeback?
There's no doubt any hope of a quiet, low-key return to the game is beyond hope - such will be the media scrutiny - but what caught my eye was the recent outburst from American veteran Tom Watson, who told Tiger through the media in no uncertain terms that he needs to improve his act both on and off the course.
And let's hope Tiger takes heed. Ever since he burst onto the scene, we've been treated to some jaw-dropping stuff from the sport's second-most decorated player of all-time, but too often in recent times we've also seen a side that does the world number one no favors at all.
What Watson gave us was a fairly unsubtle dig at what he perceives as Tiger's course etiquette, or rather lack of it. The five-time British Open champion made reference to his compatriot's occasional, though highly noticeable, habit of re-swinging his club in churlish frustration on the rare occasion that one of his shots isn't perfectly executed. And the 60-year-old also picked up on some rather choice language at times that frankly we could all do without.
Watson added that you'd never have got that from a certain Jack Nicklaus, at least not with any regularity. Microphones and cameras are seemingly everywhere these days, and it's perhaps naive of Tiger to think otherwise.
It's the kind of admonishment hardly anyone would have dared to venture just a short while ago. But the golfing landscape looks very different now as far as Woods is concerned, and some of the sport's biggest names certainly aren't afraid of having their say.
Of course, the 2010 Masters looms large at Augusta, Georgia, and I for one still think there's more than a fair chance we'll see the game's top player at the season's first major. There's only so much time he can spend kicking his heels in frustration.
I am, of course, not privy to what's going on behind the scenes, but when a patched up Tiger does return to the fray he knows better than anyone that the onus is on him to quickly prove that painful lessons have been learned. And Tom Watson, for one, would have it no other way.