If you ever consider purchasing tickets to an Olympic Winter Games sport, might I suggest short-track speedskating? In a word, WOW!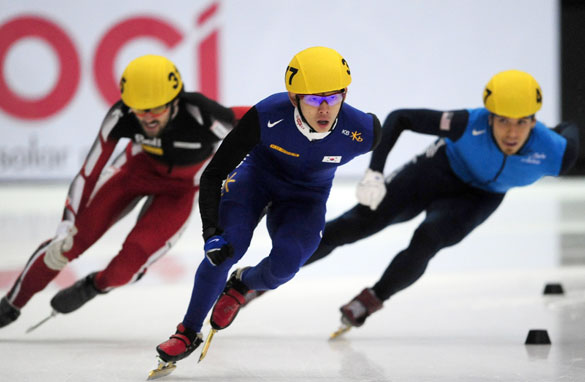 South Korean Jung-Su Lee crosses the finish-line ahead of Canada's Charles Hamelin and American speedskating legend Apolo Anto Ohno.
Venue: the Pacific Coliseum, event: the 1500 metres men's short-track final. Having never before taken-in this sport in person, I didn't really know what to expect.
I did know from the television pictures that I've seen through the years that short-track seemed to be the real deal. Many times the race isn't over 'till it's over and sometimes even then it's not finished.
This is precisely how it went for Apolo Anton Ohno on this night. Ohno was, without a doubt, the most popular skater in the house. Even the Canadian crowd, who would have loved to see one of their own claim the gold, was behind the 27-year-old in his pursuit of U.S. Olympic history.
When Ohno was introduced, the fans roared and rang cowbells to increase the decibel level in an already noisy arena. Once the race began, off a starter's gun, it was a little difficult to focus from the upper level of the stands. So much was going on as the skaters went 'round and 'round the ice.
Ohno fell back in the pack at one point and then made his move toward the front as the laps wound down. Your eyes would, at one moment, be fixed on the white ice and then you'd look up at the scoreboard to keep up with positioning. Talk about multi-tasking!
As the race neared the finish line, it looked as if South Korea would sweep the podium. Ohno must have been thinking "oh no". Then, in a blink of an eye, one Korean took out another Korean with an ill-advised pass on the final turn. As the teammates crashed into the protective barrier, Ohno and his U.S. teammate J.R. Celski skated to the line to claim the silver and the bronze respectively behind Jung-Su Lee from South Korea who won the gold medal.
While Ohno waited for the results to become official, he raised six fingers into the air, representing the six Olympic medals he's claimed over the course of his career. What played out next will live in my Olympic memories.
Ohno retrieved a United States flag and draped it across his shoulders. With a big smile on his face, the speedskating star seemingly let out a big sigh once the finishing order was set in stone. As he circled the ice, with his country's flag in tow, Apolo Anto Ohno did so as the most decorated male Winter Olympian in U.S. history.